Air Buster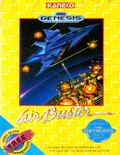 Game title:
Air Buster
Platform:
Sega Genesis / Sega Mega Drive
Author:
Kaneko
Release:
1990
Genre:
Action, Shooter
Mode:
Single-player
Design:
K. Matsumoto, Minoru Yoshida
Music:
Tatsuya Watanabe
Played:
49,989 times
Play Air Buster online in your browser without download and enjoy with RetroMania Online Emulator! Air Buster is classic game for Genesis has Action, Shooter genres for Sega Genesis / Sega Mega Drive retro console. If you love Genesis Online games you can also find other emulator games on our site.
Air Buster: Trouble Specialty Raid Unit a.k.a. Aero Blasters: Trouble Specialty Raid Unit is a 1990 horizontally scrolling shoot 'em up video game developed and published by Kaneko and licensed to Namco. The game was originally released in the arcades in 1990 and was subsequently released for the PC Engine/TurboGrafx-16 (as Aero Blasters) and Sega Mega Drive/Genesis (as Air Buster in North America) in 1990 and 1991 respectively.
In Air Buster, the player controls a fighter jet also designed for space travel and shoots enemies, collects power-ups, and defeats bosses to advance levels. As a console game, Air Buster had the distinction of being two player simultaneous, which was rare among side scrolling shooters on home consoles at the time; all games in the Thunder Force, Gradius, and R-Type series were only 1 player on the home consoles.
In the year 2021 a mysterious orbital space weapon appears and assaults the nations of the Earth. The players control the pilots Mike or Holly who are a part of the Trouble Speciality Raid Unit whose mission is to stop the invasion.
Players choose between one of the two Blaster fighters through scrolling six stages. The Blaster fighters can equip one of seven weapons. The weapons include the Striker weapon which adds additional firepower through vertically aligned Options, the Reverse shot which fires two diagonal shots from the rear of the ship, the Six Way Shot which fires semi-automatic shots in six directions and the Homing Shot which tracks enemies all around the screen.
The other three weapons are Missile based which vary from Red straight-firing Rockets and Green Homing Missiles. There is also the Border item which surrounds the front of the ship, keeping it from crashing into foreground objects. The only other Items include Power-Ups which increase the ship's standard shot power and Bonus Points that appear in the sign of Dollar signs.
More details about this game can be found on
Wikipedia
How to play:
Click on the joystick icon in the Air Buster online emulator to see how to control the Air Buster game