Altered Beast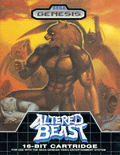 Game title:
Altered Beast
Platform:
Sega Genesis / Sega Mega Drive
Author:
SEGA
Release:
1988
Genre:
Action, Platform, Fighting
Mode:
Multiplayer
Design:
Makoto Uchida, Rieko Kodama, Tatsuo Matsuda
Music:
Tohru Nakabayashi, Kazuhiko Nagai
Game manual:
Altered_Beast_-_Genesis_-_Manual.pdf
Played:
92,925 times
Play Altered Beast online in your browser without download and enjoy with RetroMania Online Emulator! Altered Beast is classic game for Genesis has Action, Platform, Fighting genres for Sega Genesis / Sega Mega Drive retro console. If you love Genesis Online games you can also find other emulator games on our site.
Altered Beast is a 1988 beat 'em up arcade game developed and manufactured by Sega. The game is set in Ancient Greece, and follows a centurion who is resurrected by Zeus to rescue his daughter Athena, and to do so becomes able to turn into beasts such as the werewolf with the use of power-ups. After its initial arcade release, it was ported to several home video game consoles and home computers, including the Sega Mega Drive, for which it was a pack-in game. The primary designer was Makoto Uchida, also responsible for the creation of Golden Axe.
Altered Beast is a side scrolling, platform, beat 'em up game. The player can punch, kick and jump. Up to two players can play at once. Each player controls a centurion, fighting undead creatures and monsters in a setting resembling Ancient Greece, with originally five levels, in a graveyard, the Underworld, a cavern, Neff's palace and base at the city of Dis. One of the enemies, a white two-headed wolf (blue in the Mega Drive version, and a blue ox in the DOS version) upon defeat releases a Spirit Ball, a power-up orb which increase the strength and size of the player character. Three orbs turn the centurion into a beast, which in the original version were a werewolf, a thunder weredragon, a werebear, a weretiger, and the more powerful golden werewolf (other beasts can be seen in the Japanese Famicom version). Each beast has its own abilities, such as the dragon's flight and lightning, and the bear's petrification. After becoming the beast, the character can face the end-level boss, which upon defeat causes Neff to appear and remove the transformation orbs.
A Roman centurion who had died in battle is resurrected from the dead by Zeus. The centurion is ordered by Zeus to save his daughter Athena from a Demon God called Neff in the Underworld. To become able to withstand the perils, the warrior gets the ability to collect three spirit balls on each level, the last of which transforms him into a human/beast hybrid of formidable power.
After a series of battles in a journey that ends in Dis, the centurion finally defeats Neff and rescues Athena. In the original arcade game, the end credits are interspersed with images of actors in costumes for the different characters and monsters of the game, implying the whole game was a film production.
More details about this game can be found on
Wikipedia
How to play:
Click on the joystick icon in the Altered Beast online emulator to see how to control the Altered Beast game