Disney's Pocahontas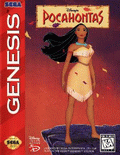 Game title:
Disney's Pocahontas
Platform:
Sega Genesis / Sega Mega Drive
Author:
Buena Vista Games
Release:
1996
Genre:
Action, Platform
Mode:
Single-player
Design:
Mike Larsen, Chip Vollers, James Mellott, Jeffrey W. Blattner, Peter Sison
Music:
Alan Menken
Played:
94,775 times
Play Disney's Pocahontas online in your browser without download and enjoy with RetroMania Online Emulator! Disney's Pocahontas is classic game for Genesis has Action, Platform genres for Sega Genesis / Sega Mega Drive retro console. If you love Genesis Online games you can also find other emulator games on our site.
Incarnation of the Disney cartoon; Pocahontas, along with a tag team partner in her raccoon friend, Meeko, goes about her homeland, helping her animal friends. As so is done, she will acquire animal spirits which will help her become stronger and bless her with new abilities.
But soon enough she meets John Smith, and as an inevitable consequence has to prevent a war between his and John's people. And she has to do it in a hurry, before John's neck gets a non-'disney' treatment.
More details about this game can be found on
MobyGames
How to play:
Click on the joystick icon in the Disney's Pocahontas online emulator to see how to control the Disney's Pocahontas game