Flicky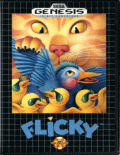 Game title:
Flicky
Platform:
Sega Genesis / Sega Mega Drive
Author:
SEGA
Release:
1984
Genre:
Action, Platform
Mode:
Single-player
Design:
Yoji Ishii, Yoshiki Kawasaki, Hideki Ishikawa
Game manual:
Flicky_-_Genesis_-_Manual.pdf
Played:
162,777 times
Play Flicky online in your browser without download and enjoy with RetroMania Online Emulator! Flicky is classic game for Genesis has Action, Platform genres for Sega Genesis / Sega Mega Drive retro console. If you love Genesis Online games you can also find other emulator games on our site.
Flicky is a platform game developed by Sega and originally released in arcades in May 1984. The player controls an eponymous blue bird and must gather all the Chirps in each round and take them to the exit. There are cat and lizard enemies which can kill the player, although Flicky can use items to protect itself from danger. Flicky was later ported to various home computer systems in Japan, and in 1991 was ported to the Sega Genesis. The game has continued to be re-released in various compilations of Sega video games. The Flicky character has become a mascot for Sega's early arcade years and continues to hold cameo appearances in Sega video games, most notably within the Sonic the Hedgehog series.
Flicky is a platform game in which the player takes control of a flightless blue bird named Flicky. The game consists of numerous rounds in which the objective is to save small yellow birds entitled 'Chirps'. With only the ability to run side-to-side and jump, the player must collect all the Chirps and guide them to the exit to clear each round. The first two rounds have six Chirps and every round thereafter has eight. Bonuses are available for bringing multiple Chirps back at the same time. Additionally, there are also bonus rounds in which Flicky will need to catch as many falling Chirps as possible in a net. Catching all the Chirps will result in a 'Perfect' bonus score.
There are two enemy types in the standard rounds, house cats called Tiger and green iguanas called Iggy. These enemies can be simply avoided by running and jumping away, but can also be killed with throwable items, which are available only on certain levels. These items include telephones, flower pots, cups, and bottles. Flicky can pick up an item by walking into it, and throw it by jumping. Sometimes diamonds may appear, which cannot be thrown but rather provide bonus points.
More details about this game can be found on
Wikipedia
How to play:
Click on the joystick icon in the Flicky online emulator to see how to control the Flicky game