Ghouls 'N Ghosts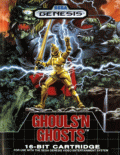 Game title:
Ghouls 'N Ghosts
Platform:
Sega Genesis / Sega Mega Drive
Author:
Capcom
Release:
1988
Genre:
Action, Platform
Mode:
Single-player
Design:
Tokuro Fujiwara, Shinichi Yoshimoto, Hiroshi Koike
Music:
Tamayo Kawamoto
Game manual:
Ghouls_N_Ghosts_Genesis_-_Manual.pdf
Played:
89,523 times
Play Ghouls 'N Ghosts online in your browser without download and enjoy with RetroMania Online Emulator! Ghouls 'N Ghosts is classic game for Genesis has Action, Platform genres for Sega Genesis / Sega Mega Drive retro console. If you love Genesis Online games you can also find other emulator games on our site.
Ghouls 'n Ghosts is a side-scrolling platform game developed by Capcom and released as an arcade game in 1988, and subsequently ported to a number of other platforms. It is the sequel to Ghosts 'n Goblins and the second game in the Ghosts 'n Goblins series.
The gameplay for Ghouls 'n Ghosts is similar to that of Ghosts 'n Goblins. The player controls the knight Arthur, who must advance through a series of eerie levels and defeat a number of undead and demonic creatures in his quest to restore all the people killed by Lucifer (Loki in the English-language Mega Drive and Master System versions), including his beloved Princess Prin Prin, back to life. Along the way, Arthur can pick up a variety of weapons and armor to help him in his quest. While the core gameplay remains the same as its predecessor, the game now allows Arthur to fire directly upward and directly downward while in mid air.
By jumping in certain spots, players can cause a treasure chest to erupt from the ground. By firing his weapon at the chest, players may uncover new weapons, gold armor or an evil magician that changes Arthur into an elderly man or a helpless duck. The gold armor allows players to charge up the weapon to release a powerful magical attack. Each weapon has its own special attack, with the exception of the special weapon (see below).
There are five levels and Lucifer's chamber at the end, considered a sixth level in itself. To defeat the game, Arthur must complete level 1 to 5 twice. Upon completing level's 1 to 5 the first time, Arthur is taken back to level 1 again but this time a special weapon appears during the game. To enter Lucifer's chamber the player must have this special weapon equipped, and must have defeated the final Fly boss from level 5. After entering the final large door, the player goes directly to Lucifer's chamber.
More details about this game can be found on
Wikipedia
How to play:
Click on the joystick icon in the Ghouls 'N Ghosts online emulator to see how to control the Ghouls 'N Ghosts game