Mega Bomberman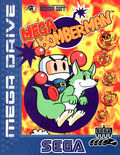 Game title:
Mega Bomberman
Platform:
Sega Genesis / Sega Mega Drive
Author:
Hudson Soft
Release:
1993
Genre:
Action
Mode:
Single-player
Design:
Yūichi Itō, Hideo Iwakawa, Kazuyuki Kimura, Takuya Aoyama
Music:
Jun Chikuma
Played:
169,872 times
Play Mega Bomberman online in your browser without download and enjoy with RetroMania Online Emulator! Mega Bomberman is classic game for Genesis has Action genre for Sega Genesis / Sega Mega Drive retro console. If you love Genesis Online games you can also find other emulator games on our site.
Bomberman '94 is a video game from the Bomberman series which was developed and published by Hudson Soft for the PC Engine and released on December 10, 1993 in Japan. It was later re-developed by Westone and re-published by Sega as Mega Bomberman on the Sega Mega Drive/Genesis in 1994 in other areas. The game supports single-player and multi-player modes. In single player, the player navigates several levels of mazes, destroying creatures with bombs. In multi-player mode, players defeat each other with bombs.
The inhabitants of Bomber Planet lived in peace, protected by five spirits, until the evil Bagular and his robot army invaded. The Spirit Pictures, the source of the Spirits' magical power, were destroyed, splitting Bomber Planet into five pieces. Bomberman arrives to restore the Spirit Pictures and reassemble Bomber Planet.
The game is set in six areas: a jungle, a volcano, a sea, a horror-themed castle, an ice level, and the asteroid lair of Bagular. Due to the Mega Drive's and Genesis's lack of a fifth controller port, Mega Bomberman only supports four players instead of five. This is the first game in the series that uses the modern design of White Bomberman. Bomberman '94 also introduces Rooeys to the series. Also, Bomberman '94 introduced several recurring characters, such as female and child Bombers (which were multiplayer skins), red/green/blue bombers, secondary villains, possibly originated from combining 'normal' skin with corresponding colors. Max was possibly created by selecting skin #3 (spiny helmet) for 'black' player.
More details about this game can be found on
Wikipedia
How to play:
Click on the joystick icon in the Mega Bomberman online emulator to see how to control the Mega Bomberman game