Mortal Kombat 3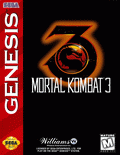 Game title:
Mortal Kombat 3
Platform:
Sega Genesis / Sega Mega Drive
Author:
Midway Games
Release:
1995
Genre:
Action, Fighting
Mode:
Multiplayer
Design:
Steve Beran, Ed Boon, Dan Forden, Tony Goskie, Dave Michicich, John Tobias, John Vogel
Music:
Dan Forden
Game manual:
SegaGenesisMortalKombat3.pdf
Played:
111,550 times
Play Mortal Kombat 3 online in your browser without download and enjoy with RetroMania Online Emulator! Mortal Kombat 3 is classic game for Genesis has Action, Fighting genres for Sega Genesis / Sega Mega Drive retro console. If you love Genesis Online games you can also find other emulator games on our site.
Mortal Kombat 3 (MK3) is a fighting game developed by Midway Games and first released into arcades in 1995 as the third game in the Mortal Kombat series. As in the previous games, it has a cast of characters that players choose from and guide through a series of battles against other opponents. The game avoids the tournament storyline of its predecessors, as various warriors instead fight against the returning Shao Kahn, who has resurrected his bride Sindel and started an invasion of Earthrealm.
The third installment of Mortal Kombat retains the blood and gory attacks that defined the series. It introduces new types of the Fatality finishing moves, including Animalities. Other features new to the series were combos, predefined sequences used to perform a series of consecutive attacks. A 'Run' button was also added, allowing players to briefly dash toward the opponent, as were 'Kombat Kodes', an unlockable content system using various symbols that can be entered before two-player matches to achieve certain effects.
Some characters from the previous games returned and new characters were introduced into the series. Mortal Kombat 3 notably omitted popular characters from previous games, some of whom were added in an update, Ultimate Mortal Kombat 3, released later in 1995. The home console-exclusive Mortal Kombat Trilogy (1996) added even more characters, as well as other new features.
Mortal Kombat 3 builds further on the gameplay of the previous game. A 'Run' button, accompanied by a 'Run' meter, was introduced. This was primarily to address concern from fans who thought that the previous games gave too much of an advantage to the defending player. The Run meter is drained by running (the character cannot run backwards, only forwards) and by performing combos.
'Chain combos', also known as pre-programmed combos (labeled 'dial-a-combos') were also introduced. Chain combos are button sequences that cannot be interrupted once one hit connects; some chain combos end with an uppercut or other move that knocks the opponent into the air, so that more damage can be dealt via a traditional juggle combo. To please players of various skill levels, a 'Choose Your Destiny' screen appears in the single player mode to allow player-selectable difficulty.
For the first time, certain levels were interactive by allowing characters to uppercut each other through the ceiling where both characters would continue the battle in a different stage. This could alter the game's level cycle. Both normal uppercuts and uppercuts that are part of a ground combo would result in a level change. Kung Lao's 'Whirl Wind Spin' move would also have the same effect. However, if the character is defeated by an uppercut, there is no level change.
All of the different styles of finishing moves featured in Mortal Kombat II (Fatalities, including the non-lethal Babality and Friendship moves) return in MK3. Additionally, the rumored Animality, where the character transforms into an animal in order to kill their opponent, is featured for the first time. Another new addition is the Mercy, where the character can give their opponent a small sliver of life if they have won two rounds and are at the 'Finish Him/Her' screen. A Mercy is necessary for an Animality to occur. Finally, three new Stage Fatalities can be performed in the Subway, the Bell Tower and the Pit 3.
Another concept introduced in this game is the 'Kombat Kode'. A Kombat Kode is a six-symbol code entered at the VS screen in a two-player game to modify gameplay, fight hidden characters or display certain text messages. Also introduced in this game was the 'Ultimate Kombat Kode', a 10-character code using symbols, that could be entered on the game over screen after the continue screen disappears in single player mode. It was used to unlock a robotic version of the character Smoke; it can be done by either the player or the arcade operator. The arcade owner could reset this code by accessing the game's diagnostic menu by toggling a DIP switch within the MK3 cabinet. The codes were revealed through gaming magazines, promotional material and other Mortal Kombat media.
More details about this game can be found on
Wikipedia
How to play:
Click on the joystick icon in the Mortal Kombat 3 online emulator to see how to control the Mortal Kombat 3 game