NBA Jam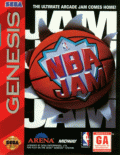 Game title:
NBA Jam
Platform:
Sega Genesis / Sega Mega Drive
Author:
Midway Games
Release:
1993
Genre:
Sport
Mode:
Single-player
Design:
Mark Turmell, Shawn Liptak, Tony Goskie
Game manual:
NBA_Jam_-_Genesis_-_Manual.pdf
Played:
99,532 times
Play NBA Jam online in your browser without download and enjoy with RetroMania Online Emulator! NBA Jam is classic game for Genesis has Sport genre for Sega Genesis / Sega Mega Drive retro console. If you love Genesis Online games you can also find other emulator games on our site.
NBA Jam is a basketball arcade game published and developed by Midway in 1993. It is the first entry in the NBA Jam series. The main designer and programmer for this game was Mark Turmell. Midway had previously released such sports games as Arch Rivals in 1989, High Impact in 1990, and Super High Impact in 1991. The gameplay of NBA Jam is based on Arch Rivals, another 2-on-2 basketball video game. However, it was the release of NBA Jam that brought mainstream success to the genre.
The game became exceptionally popular, and generated a significant amount of money for arcades after its release, creating revenue of $1 billion in quarters. In early 1994, the Amusement & Music Operators Association reported that NBA Jam had become the highest-earning arcade game of all time.
The release of NBA Jam gave rise to a new genre of sports games which were based around fast, action-packed gameplay and exaggerated realism, a formula which Midway would also later apply to the sports of football (NFL Blitz), and hockey (2 on 2 Open Ice Challenge).
NBA Jam, which featured 2-on-2 basketball, is one of the first real playable basketball arcade games, and is also one of the first sports games to feature NBA-licensed teams and players, and their real digitized likenesses.
A key feature of NBA Jam is the exaggerated nature of the play - players jump many times their own height, making slam dunks that defy both human capabilities and the laws of physics. There are no fouls, free throws, or violations except goaltending and 24-second violations. This means the player is able to freely shove or elbow his opponent out of the way. Additionally, if a player makes three baskets in a row, he becomes 'on fire' and has unlimited turbo and increased shooting precision. The 'on fire' mode continues until the other team scores, or until the player who is 'on fire' scores 4 additional consecutive baskets while 'on fire.'
The game is filled with easter eggs, special features and players activated by initials or button/joystick combinations. For example, pressing A five times and right five times on any Genesis controller would activate 'Super Clean Floors'. This feature would cause characters to fall if they ran too fast or changed direction too quickly. And players can enter special codes to unlock hidden players, ranging from US President Bill Clinton to Hugo the Charlotte Hornets mascot. On the arcade machine, there is also a hidden 'tank' game that allows the player to run around a 3D wireframe field. In order to access this mode, however, the player must be able to toggle the on/off switch located behind the machine. While the game was powering back on, the player holds Up and all buttons on player 1 and Down and all buttons on player 2.
The original arcade version of NBA Jam features team rosters from the 1992-93 NBA season and the console versions use rosters from the 1993-94 NBA season. More up-to-date rosters were available in subsequent ports released for the Sega CD, Game Boy, and Game Gear in 1994. Midway did not secure the license to use Michael Jordan's name or likeness (as Jordan himself owns the rights to his name and likeness, and not the NBA), and as such he was not available as a player for the Chicago Bulls or any other team. Another notable absence from the home versions is Shaquille O'Neal, who was in the arcade version as a member of the Orlando Magic. New Jersey Nets guard Dražen Petrović and Boston Celtics forward Reggie Lewis, both of whom died after the release of the arcade version, were also removed from the home versions.
A limited edition version of the game with an additional team composed of Gary Payton and Michael Jordan was developed primarily for Jordan and Payton's personal use.
Some home console versions of NBA Jam were coded later than others, and as a result of real-life roster changes or in the cases of Charles Barkley and Shaquille O'Neal, legal reasons, some rosters differ from version to version.
More details about this game can be found on
Wikipedia
How to play:
Click on the joystick icon in the NBA Jam online emulator to see how to control the NBA Jam game