NHL '94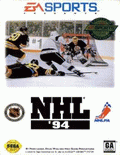 Game title:
NHL '94
Platform:
Sega Genesis / Sega Mega Drive
Author:
Electronic Arts
Release:
1993
Genre:
Sport
Mode:
Single-player
Design:
Michael Brook
Game manual:
SegaGenesisNHL94.pdf
Played:
103,730 times
Play NHL '94 online in your browser without download and enjoy with RetroMania Online Emulator! NHL '94 is classic game for Genesis has Sport genre for Sega Genesis / Sega Mega Drive retro console. If you love Genesis Online games you can also find other emulator games on our site.
NHL '94 is an ice hockey game by EA Sports for the Sega Mega Drive/Genesis, Super Nintendo and Sega CD, as well as the first release of the 'NHL Hockey' series for PC/DOS, simply titled 'NHL Hockey', without the '94' in the title. The game is officially licenced from the National Hockey League and NHL Players Association. Being the third game in the NHL Hockey series media franchise, it was released in October, 1993. NHL '94 is included as #47 on IGN's Top 100 Games of All-Time and is named All-Time Greatest Sports Video Game by Boston.com. It was also ranked second by ESPN on its all-time sports video games rankings.
Just like its predecessors -- NHL Hockey and NHLPA Hockey '93 -- NHL '94 was designed to give gamers the most realistic hockey experience possible. The game maintained the series' signature vertical camera angle, which offered the player distinct gameplay and strategic advantages over contemporary side-view hockey games, and kept the 2D sprite character models of NHLPA '93 (albeit with some new animations). While today such a lack of graphical change from year to year would be criticized by players, the NHLPA '93 framework was regarded as the most groundbreaking hockey engine ever made—meaning that NHL '94 was able to build on the basic aspects of the game, such as the isometric rink view and basic controls. However, NHLPA '93 lacked such features as goalie control, shootouts, penalty shots, bench and board checks, saving player records, flip passes and auto line changes. By programming a substantial number of realistic hockey features, the programmer of NHL'94, Mark Lesser, along with the crew at EA Sports, was able to turn the game into one of the most widely acclaimed sports games ever made, and a game that still has an extensive cult following to this day, such as NHL94.com.
Many improvements were made to the engine by EA between 1992 and 1993. Notably, NHL '94 introduced the 'one timer', an authentic hockey move where a player shoots the puck directly off of a pass; NHL '94 's one-timer was in fact so devastating that it would become the scoring method of choice for most players. However, other techniques such as 'the duper' and 'the move' remain quite popular and effective scoring tactics, not to mention the sometimes used b-button shot and the somewhat controversial garbage goal (Rumpke goal) technique. Because of NHL 94 's (mostly) realistic and action-packed gameplay, the game is almost universally considered the best hockey game of its generation, and is frequently mentioned in 'all-time top sports game' lists.
More details about this game can be found on
Wikipedia
How to play:
Click on the joystick icon in the NHL '94 online emulator to see how to control the NHL '94 game