NHL 95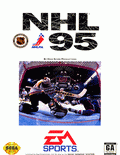 Game title:
NHL 95
Platform:
Sega Genesis / Sega Mega Drive
Author:
Electronic Arts
Release:
1994
Genre:
Sport
Mode:
Single-player
Design:
Jim Simmons, Scott Orr, Richard Hilleman, Dave Warfield, ...
Music:
Rob Hubbard
Game manual:
SegaGenesisNHL95.pdf
Played:
62,978 times
Play NHL 95 online in your browser without download and enjoy with RetroMania Online Emulator! NHL 95 is classic game for Genesis has Sport genre for Sega Genesis / Sega Mega Drive retro console. If you love Genesis Online games you can also find other emulator games on our site.
NHL 95 (also known as NHL Hockey 95) is an ice hockey video game developed by Electronic Arts Canada. It was released in 1994 for the Super Nintendo Entertainment System and in 1995 for the Sega Genesis.
NHL 95 introduced many new elements to the series. Firstly, the graphics on the Genesis and SNES gamed differed greatly from the first three installments of the NHL series (The DOS version kept those graphics). For the first time, a complete season could be played, and players could be created, traded, signed, and released. It is also the first game to give out year end awards at the end of the season. Other gameplay improvements include fake shots, drop passes and lying on the ice to block shots. Fighting is still removed but if a player sustained a multi game injury during season play, the player would be shown lying on the ice with nasty leg injury, if it was during exhibition game the player would have stars around his head. The game supported EA's four player adapter, allowing 1 - 4 people to play simultaneously.
More details about this game can be found on
Wikipedia
How to play:
Click on the joystick icon in the NHL 95 online emulator to see how to control the NHL 95 game