Road Rash II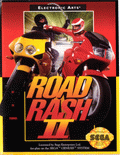 Game title:
Road Rash II
Platform:
Sega Genesis / Sega Mega Drive
Author:
Electronic Arts
Release:
1992
Genre:
Racing
Mode:
Single-player
Design:
Alex Amsel, Mark Fitt, Richard Hill‑Whittall
Music:
Allister Brimble
Played:
63,121 times
Play Road Rash II online in your browser without download and enjoy with RetroMania Online Emulator! Road Rash II is classic game for Genesis has Racing genre for Sega Genesis / Sega Mega Drive retro console. If you love Genesis Online games you can also find other emulator games on our site.
Road Rash II is the second game in the motorcycle-racing video game series by Electronic Arts. It was released for the Sega Genesis. It is based heavily on the engine and sprites of the first game. Road Rash II introduced several new features to the series, including bikes with nitrous oxide injection and varied weapons.
The races took place in the U.S. states of Alaska, Hawaii, Tennessee, Arizona, and Vermont, on progressively longer two-lane roads. Races would be won by placing first, second, or third in each of the five tracks (as opposed to the first game, which would allow a victory by placing fourth as well). After all five tracks were won, the player would advance to the next level, where the track would be longer, the opponents faster, and much more money at stake for a victory or a loss.
The second Road Rash game introduced two major features to gameplay. One is the fighting system and the addition of a second weapon—the chain. Where in the first game one strong hit would deplete the opponent's life bar, in this game each weapon's attacks dealt a set amount of damage. The other main addition to gameplay is of bikes containing nitrous oxide injection, which allows the user's motorcycle to accelerate beyond its top speed for a short amount of time. This addition would continue throughout several games later in the series.
One of the most noticeable differences in the game is the change of the menu screen. Road Rash II made navigation of the menu screens considerably easier, as well as gave the game a password less than half the size of the first game's passwords. Also, several game modes were introduced; alongside the two modes from the first Road Rash were a true two-player game called 'Split Screen' where the 14th and 15th players are replaced by human players, and a duel mode called 'Mano a Mano' where the two human players can select any bike, weapon, and length of track they wish before racing each other.
More details about this game can be found on
Wikipedia
How to play:
Click on the joystick icon in the Road Rash II online emulator to see how to control the Road Rash II game