Streets of Rage 2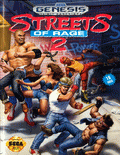 Game title:
Streets of Rage 2
Platform:
Sega Genesis / Sega Mega Drive
Author:
SEGA Enterprises
Release:
1993
Genre:
Action, Fighting
Mode:
Single-player
Design:
Kataru Uchimura, Ayano Koshiro, Mikito Ichikawa
Music:
Yuzo Koshiro, Motohiro Kawashima
Game manual:
Streets_of_Rage_ 2_-_Manual_-_Genesis.pdf
Played:
108,097 times
Play Streets of Rage 2 online in your browser without download and enjoy with RetroMania Online Emulator! Streets of Rage 2 is classic game for Genesis has Action, Fighting genres for Sega Genesis / Sega Mega Drive retro console. If you love Genesis Online games you can also find other emulator games on our site.
Streets of Rage 2, released in Japan as Bare Knuckle II: The Requiem of the Deadly Battle, is a side-scrolling beat 'em up video game released by Sega in 1992 for the Mega Drive / Genesis console. It is the second game in the Streets of Rage series, a sequel to Streets of Rage and followed by Streets of Rage 3. The game introduced two new characters: Max Thunder and Eddie 'Skate' Hunter (known as Sammy Hunter in Japan), brother of Adam Hunter from the original game. It was critically acclaimed upon release and has since been listed among the best games of all time.
A year has passed since the events of Streets of Rage. To celebrate the defeat of the mysterious 'Mr. X' and his syndicate the previous year, Adam Hunter, Axel Stone and Blaze Fielding met at their favorite nightspot in the city and spent their time reminiscing about their vigilante crusade against 'Mr. X' and his organization. Axel and Blaze had moved out of the city after the adventure from last year. Axel has begun working as a part-time bodyguard and Blaze teaches dance classes. Adam has since rejoined the police force and lives in a small house with his younger brother.
The next morning, Axel received a phone call from Eddie 'Skate' Hunter, Adam's younger brother. Skate had arrived at home from school and was shocked to find his house in ruin and his older brother missing. Attached to the front door was a picture of Adam chained to a wall at the feet of Mr. X. The criminals began to retake the streets once more. Beatings and lootings took place regularly and in broad daylight. Chaos reigned in the city, far worse than before.
Realizing that Mr. X and his syndicate has returned for revenge against them and the city, Axel and Skate waste no time in telling Blaze about the unexpected situation and Blaze herself is determined to help Axel out in defeating Mr. X and rescuing Adam. Accompanied by Adam's young brother Skate and Axel's 'friend,' a professional wrestler named Max Thunder, Axel and Blaze set forth on a rescue mission, which will take them from the city all the way to Mr. X's hideout on a desolate island, where they will eventually face Mr. X and his bodyguard Shiva.
Unlike the other two games in the series, this game has only one ending, the 'good' ending where Mr. X is defeated and Adam is rescued. The five heroes then take a helicopter to leave Mr. X's island.
More details about this game can be found on
Wikipedia
How to play:
Click on the joystick icon in the Streets of Rage 2 online emulator to see how to control the Streets of Rage 2 game