Super Hang-On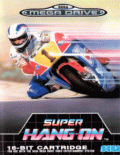 Game title:
Super Hang-On
Platform:
Sega Genesis / Sega Mega Drive
Author:
SEGA
Release:
1987
Genre:
Racing
Mode:
Single-player
Design:
Yu Suzuki
Music:
Katsuhiro Hayashi, Koichi Namiki
Game manual:
Super_Hang-On_-_Manual_-_Genesis.pdf
Played:
53,380 times
Play Super Hang-On online in your browser without download and enjoy with RetroMania Online Emulator! Super Hang-On is classic game for Genesis has Racing genre for Sega Genesis / Sega Mega Drive retro console. If you love Genesis Online games you can also find other emulator games on our site.
Super Hang-On is a 1987 motorcycle racing arcade game by Sega, and the sequel to the acclaimed Hang-On. A version of this game, in the full simulated-motorcycle cabinet used by the original Hang-On, was released in 1991 as Limited Edition Hang-On. It was also released for the Sega Mega Drive, Commodore Amiga, Atari ST, Macintosh, ZX Spectrum, Amstrad CPC and Commodore 64 in 1989. Super Hang-On was also released for the Sharp X68000 computer in Japan. The game also appeared on several Mega Drive compilations, namely Mega Games I (bundled with the console as Mega Drive Magnum Set), and Sega 6-Pak. The arcade version was released on the Wii Virtual Console in Japan on September 14, 2010 and later for the other regions on May 3, 2012. A stereoscopic 3D version was released for the Nintendo 3DS eShop in Japan on March 27, 2013 and in North America and Europe on November 28, 2013.
The arcade mode in Super Hang-On is similar to the original Hang-On. However, there is a choice of four tracks to race on which are based on continents, each containing a different amount of stages. Also, should the player reach the normal maximum speed of 280 km/h, a turbo button is enabled. Using this button allows the player to reach an even higher top speed of 324 km/h. Each stage is roughly half the length of a stage in the original Hang-On. Africa is the easiest and shortest out of the four courses (six stages). Asia is the second easiest and is similar in length to the course from the original Hang-On at ten stages long. The Americas is the second to toughest course, containing 14 stages and Europe is the hardest course, being 18 stages long. When the player starts a race, they have their choice of four songs that will play during the race, a feature borrowed from Out Run.
The Sega Mega Drive version of the game included the full arcade game, and an additional original mode, which allowed players to recruit sponsors and earn money to buy enhanced components for their bike. The cover for this version has a bike and rider in the same colors as Shinichi Itoh, who competed in the All-Japan 500 cc Championship on a Rothmans Honda NSR500.
More details about this game can be found on
Wikipedia
How to play:
Click on the joystick icon in the Super Hang-On online emulator to see how to control the Super Hang-On game