Tecmo World Cup '90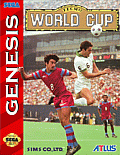 Game title:
Tecmo World Cup '90
Platform:
Sega Genesis / Sega Mega Drive
Author:
Tecmo
Release:
1989
Genre:
Sport
Mode:
Multiplayer
Design:
Yuji Kobayashi, Katsuhito Gofuku, Tsunetomo Sugawara
Music:
Shigeki Sako
Played:
3,277 times
Play Tecmo World Cup '90 online in your browser without download and enjoy with RetroMania Online Emulator! Tecmo World Cup '90 is classic game for Genesis has Sport genre for Sega Genesis / Sega Mega Drive retro console. If you love Genesis Online games you can also find other emulator games on our site.
Tecmo World Cup '90 is an association football video game released by Tecmo for arcades in 1989. It was an arcade successor to Tecmo's Tehkan World Cup (1985), and is based on the 1990 FIFA World Cup. An unofficial bootleg of the game named Euro League featuring European club teams was also released. An unfaithful home version was developed by SIMS for the Sega Mega Drive renamed simply Tecmo World Cup, and ported to the Sega Master System as Tecmo World Cup '93.
Like the title indicates, you can play the World Cup tournament, which will also include a qualification round. You can choose your team from a pool of 24 nations, though the assortment is not identical to the roster of the latest World Cup by the time of the games release. Also, the qualification, in contrast to the real World Cup, only has four teams as no other than the available 24 teams take part. Apart from the World Cup, the only other single-player mode is a friendly match against a randomly chosen team.
The gameplay is shown from the side and above. Before a game begins, you choose one of four different tactics (which can't be changed during half time), further team management does no exist. The game uses two buttons, one for passing and tackling, the other one for shooting or changing to another player when the opposing team has the ball.
More details about this game can be found on
Wikipedia
How to play:
Click on the joystick icon in the Tecmo World Cup '90 online emulator to see how to control the Tecmo World Cup '90 game