The Revenge of Shinobi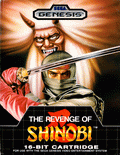 Game title:
The Revenge of Shinobi
Platform:
Sega Genesis / Sega Mega Drive
Author:
SEGA Enterprises
Release:
1989
Genre:
Action, Platform
Mode:
Single-player
Design:
Keiichi Yamamoto, Matsuhide Mizoguchi, Tarō Shizuoka, Takashi Yuda, Atsushi Seimiya
Music:
Yūzō Koshiro, Tokuhiko Uwabo
Game manual:
The_Revenge_of_Shinobi_-_Manual_-_GEN.pdf
Played:
43,591 times
Play The Revenge of Shinobi online in your browser without download and enjoy with RetroMania Online Emulator! The Revenge of Shinobi is classic game for Genesis has Action, Platform genres for Sega Genesis / Sega Mega Drive retro console. If you love Genesis Online games you can also find other emulator games on our site.
The Revenge of Shinobi, published in Japan as The Super Shinobi, is a video game developed and published by Sega in 1989. It was the first Shinobi game developed for the Mega Drive, and was later released on the coin-operated version of that console, the Mega-Tech.
Alongside Shadow Dancer, the game is a sequel to Shinobi, and features a soundtrack by video game music composer Yuzo Koshiro. The game was included in the compilations: Mega Games 2, Mega Drive 6 Pak, Sega Classics Arcade Collection (for Mega-CD), and Sega Smash Pack (for the PC and Dreamcast). It was re-released for the Wii Virtual Console in 2009 and on both the PlayStation 3 via PlayStation Network and Xbox 360 via Xbox Live Arcade download services in 2012.
Taking place three years after the first game, the criminal organization Zeed from the original game has since reformed and have renamed themselves 'Neo Zeed'. They decide to have their revenge on the Oboro Ninja clan and Joe Musashi by killing his master and kidnapping Joe's bride, Naoko (ナオコ). Joe, having reached the clan too late, manages to learn about Neo Zeed's plot by his dying master. Joe decides to travel the world to gain his revenge on Neo Zeed as well as try to save his bride before it's too late.
More details about this game can be found on
Wikipedia
How to play:
Click on the joystick icon in the The Revenge of Shinobi online emulator to see how to control the The Revenge of Shinobi game