World Class Leader Board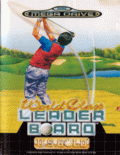 Game title:
World Class Leader Board
Platform:
Sega Genesis / Sega Mega Drive
Author:
Access Software
Release:
1987
Genre:
Sport
Mode:
Multiplayer
Design:
Bruce Carver, Roger Carver, Douglas Vandegrift
Game manual:
World_Class_Leader_Board_-_Genesis_-_Manual.pdf
Played:
5,359 times
Play World Class Leader Board online in your browser without download and enjoy with RetroMania Online Emulator! World Class Leader Board is classic game for Genesis has Sport genre for Sega Genesis / Sega Mega Drive retro console. If you love Genesis Online games you can also find other emulator games on our site.
World Class Leader Board (known as World Class Leaderboard Golf in the US) is a 1987 video game published by Access Software. It is part of the Leader Board series and a sequel to the 1986 release of Leader Board by Access Software. While the Game Gear and Master System versions are similar to the home computer ports, the Mega Drive version has a different user interface, with an extra, pseudo-3D top-down view positioned on the right hand side of the screen. Artwork originally designed for the 1986 Sega Master System game Great Golf can be seen in the game's US manual.
Wind, snap and power are the main considerations as players dodge the bunkers, water and rough, which make for more complex courses than the 8-bit versions of the original. A course editor is included. The courses provided include real locations: St. Andrews (Scotland), Cypress Creek and Doral Country Club (USA) and a fictional one, The Gauntlet, which, as the name suggests, is designed to push the player's skills to the maximum.
The PC version utilizes the PC speaker to reproduce voice samples via the company's patented RealSound process. Quips like 'No doubt about it, he's deep in the sandtrap', 'Straight onto the fairway', and 'Looks like he hit the tree, Jim' are used to provide running commentary on the gameplay.
More details about this game can be found on
Wikipedia
How to play:
Click on the joystick icon in the World Class Leader Board online emulator to see how to control the World Class Leader Board game