All-Star Baseball 99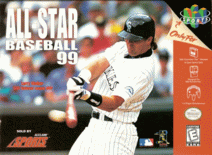 Game title:
All-Star Baseball 99
Platform:
Nintendo 64
Author:
Acclaim Entertainment
Release:
1998
Genre:
Sport
Mode:
Multiplayer
Design:
Larry Walker, Jaime R. Grieves, David Crummack
Game manual:
All-Star_Baseball_99_-_Nintendo_64_-_Manual.pdf
Played:
4,909 times
Play All-Star Baseball 99 online in your browser without download and enjoy with RetroMania Online Emulator! All-Star Baseball 99 is classic game for N64 has Sport genre for Nintendo 64 retro console. If you love N64 Online games you can also find other emulator games on our site.
All-Star Baseball 99 is a video game developed by Iguana Entertainment and Realtime Associates Seattle Division and published by Acclaim Entertainment for the Game Boy and the Nintendo 64 in 1998. The game features Colorado Rockies outfielder Larry Walker on the cover. The game also marked the debut of play-by-play commentary. This is done by two New York Yankees broadcasters: John Sterling and Michael Kay.
All 30 Major League Baseball teams feature in this first All-Star Baseball title. Game modes include Training, Season, Playoff, World Series, plus an All-Star Match, Home Run Derby, and MLB trivia. 100 different batting styles are featured, as well as motions such as sliding catches, base collisions, kneeling throws and broken bats.
You can release, sign up and trade players from all around the league, creating your own team from the entire 700-player roster, which includes minor league players ready to be discovered. If a player fitting your demands doesn't exist, you can use the Create a Player mode for further versatility. There are action and simulation modes, plus 3 skill levels.
More details about this game can be found on
Wikipedia
How to play:
Click on the joystick icon in the All-Star Baseball 99 online emulator to see how to control the All-Star Baseball 99 game