Chopper Attack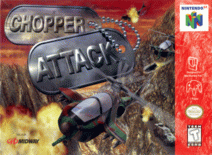 Game title:
Chopper Attack
Platform:
Nintendo 64
Author:
SETA Corporation
Release:
1997
Genre:
Action, Shooter
Mode:
Single-player
Design:
Brian Lowe, Brian Loke, Debra Austin
Game manual:
Chopper_Attack_-_Nintendo_64_-_Manual.pdf
Played:
8,145 times
Play Chopper Attack online in your browser without download and enjoy with RetroMania Online Emulator! Chopper Attack is classic game for N64 has Action, Shooter genres for Nintendo 64 retro console. If you love N64 Online games you can also find other emulator games on our site.
Chopper Attack, known in Japan as Wild Choppers, is a helicopter-based third-person shooter game for the Nintendo 64 released in 1997. The game features numerous missions in various locations. Missions include bombing the enemy's bases, escorting Air Force One through dangerous jungle terrain, and rescuing prisoners of war. Every mission has a time limit.
You get to choose between eight different attack choppers, each having its own strengths and weaknesses. After the briefing from your XO, you are set to destroy something —tanks, other helicopters, planes, radars, buildings etc. While the mission only requires you to do something specific, destroying everything gives you bonuses and money, which you can then use to buy more heavy-duty missiles between the missions.
If you look at the screenshots, you might think that Chopper Attack is a helicopter simulation. It's not. Your elevation is fixed. There are no physics. You have boss fights against giant choppers. The game is pure and plain 3D action.
More details about this game can be found on
Wikipedia
How to play:
Click on the joystick icon in the Chopper Attack online emulator to see how to control the Chopper Attack game