Cruis'n USA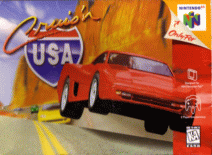 Game title:
Cruis'n USA
Platform:
Nintendo 64
Author:
Midway Games
Release:
1994
Genre:
Racing
Mode:
Single-player
Design:
Eugene Jarvis, Eric Pribyl, Carl Mey, Xion Cooper
Music:
Vince Pontarelli
Game manual:
Cruis-n_USA_-_Nintendo_64_-_Manual.pdf
Played:
93,395 times
Play Cruis'n USA online in your browser without download and enjoy with RetroMania Online Emulator! Cruis'n USA is classic game for N64 has Racing genre for Nintendo 64 retro console. If you love N64 Online games you can also find other emulator games on our site.
Cruis'n USA is an arcade racing game originally released in 1994. It was developed by Midway Games and published and distributed by Nintendo. It is the first game in the Cruis'n series and features locations around the United States. Along with Killer Instinct, it was planned as a launch title for the Nintendo 64. Neither game made it out for Nintendo 64's launch, however.
Like in most racing games, players race down one-way courses consisting of streets vaguely based on real-life locations. While racing, they do their best to avoid various road hazards such as oncoming traffic and construction. Players chose between seven different cars to race with. The car can simulate either an automatic or manual transmission. Automatic increases the speed of gear shifts, while players using the manual transmission must switch during races. The environments of the tracks range from Golden Gate Park to Washington DC. Players must reach first place to move on to the next track. Unlike most racing games, there is the option to change the music by pressing the music button. Whenever a race is completed, the player unlocks either a new vehicle or a new color, depending on the difficulty completed. Each new color represents a performance upgraded, as indicated in the specifications when selecting a vehicle. Players have the option to select the color of the car that they choose to play, with each color being a higher or lower spec.
More details about this game can be found on
Wikipedia
How to play:
Click on the joystick icon in the Cruis'n USA online emulator to see how to control the Cruis'n USA game