Cruis'n World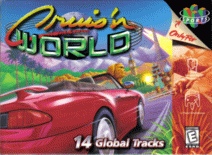 Game title:
Cruis'n World
Platform:
Nintendo 64
Author:
Midway Games
Release:
1996
Genre:
Racing
Mode:
Multiplayer
Design:
Eugene Jarvis, Eric Pribyl, Xion Cooper
Music:
Vince Pontarelli
Game manual:
Cruisn_World_-_Nintendo_64_-_Manual.pdf
Played:
4,524 times
Play Cruis'n World online in your browser without download and enjoy with RetroMania Online Emulator! Cruis'n World is classic game for N64 has Racing genre for Nintendo 64 retro console. If you love N64 Online games you can also find other emulator games on our site.
Cruis'n World is the 1996 sequel to the 1994 arcade racer Cruis'n USA. Cruis'n World allows players to race on various tracks around the world. The game also features more cars than Cruis'n USA. This game introduced stunts to the Cruis'n series. They served to dodge obstacles, take close curves and so. If the stunt makes the vehicle fly in the air, the game gives the player extra seconds of time. The game also uses small rocket boosts to speed up. The game was later released on the Nintendo 64 in 1998, being the best received of the Cruis'n ports.
Cruis'n World features the same core gameplay as its predecessor, in that the player races on different tracks under a time limit to reach the goal, passing checkpoints along the way to help extend this time limit. The races take place in different destinations around the world, such as Hawaii, Japan, Australia, China, Africa, Egypt, Moscow, Germany, Italy, France, England, Mexico, New York City and Florida. The cars now have the ability to perform stunts during races such as wheelies, which give short speed bursts, and aerial flips, which deduct seconds from the final race time, allowing for the player to achieve a better position in the records' table. Should the player win all stages including Florida, the car would be taken by a Space Shuttle for a trip to the moon.
The Nintendo 64 version adds an extra track on the Moon, which is unlocked once the player reaches the end of the 'Cruise the World' mode, and also features an exclusive Championship mode, in which players race on circuit tracks set in the game's different stages rather than the arcade's road tracks, competing for points which allow the player to unlock upgrades for the cars. The game supports up to four players using a split screen.
More details about this game can be found on
Wikipedia
How to play:
Click on the joystick icon in the Cruis'n World online emulator to see how to control the Cruis'n World game