Excitebike 64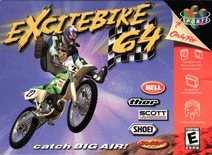 Game title:
Excitebike 64
Platform:
Nintendo 64
Author:
Left Field Productions, Nintendo
Release:
2000
Genre:
Sport, Racing
Mode:
Multiplayer
Design:
James Maxwell, Henry C. Sterchi, Sam Baker
Music:
Matt Furniss, Chris Lamb
Game manual:
Excitebike_64_-_Nintendo_64_-_Manual.pdf
Played:
40,036 times
Play Excitebike 64 online in your browser without download and enjoy with RetroMania Online Emulator! Excitebike 64 is classic game for N64 has Sport, Racing genres for Nintendo 64 retro console. If you love N64 Online games you can also find other emulator games on our site.
Excitebike 64 is a video game published by Nintendo and developed by Left Field Productions. It was initially released in North America on April 30, 2000 for the Nintendo 64 video game console. It was released on the North American Wii U Virtual Console on November 17, 2016. It is the second installment in the Excite series, and is the first 3D game in the series. It is the sequel to the acclaimed Nintendo Entertainment System game Excitebike. It was later succeeded by the Wii game Excite Truck. Many real-life dirt bike gear brands are extensively featured throughout the game, such as Bell Helmets, Alpinestars and No Fear.
Players can choose from one of six riders, each with his own pre-set handling attributes. Players control the bike by using either the control stick or D-pad. They can use the gamepad to accelerate, brake, slide, and use turbo boost. Like in the original, holding down gives the player more air on jumps, while holding up aims the front wheel forward to enable landing on slopes. The player can also tilt the bike to the side while in the air, to adjust the angle at which they hit the turns, and can sideswipe their opponents. Besides the tracks main course many of the levels have hidden shortcuts, that require the player to slow down and change direction, or use a speed boost for jumping over chasms, from hill to hill, over other vehicles and buildings, choosing to follow the original game in its 'extreme' jumps and physics.
The main game features a 20-track season mode. Completing races unlocks more tracks and features. There is a tutorial that teaches players how to play through the 17 different tracks. There are a variety of exhibitions and time trial modes that lets players do more activities other than the main game. A major feature is the track editor, where players can create their own fully functional track and save it into the game. The announcer, Limua, shouts out the tricks and crashes throughout the race. Also featured is the original Exitebike, and a 3D remake of it with the same obstacles called 'Excite 3D'. There are also several other mini games such as a 'Stunt Course', 'Hill Climb', a 'Soccer' game with giant human sized soccer ball, and an 'infinite, randomly generated' 'Desert Track' where the player needs to put out ten campfires by driving over them, which Nintendo Power called 'one of the coolest concepts ever.' As bonus features to the game, cheat modes were introduced, requiring the player to press buttons in a certain order to unlock a hidden 'Cheats Menu'. From there they could enter passwords that unlocked additional features, such as Invisible riders, Big heads, Debug mode, Midnight mode, and even unlocking a picture of the programmers in the game's credits.
More details about this game can be found on
Wikipedia
How to play:
Click on the joystick icon in the Excitebike 64 online emulator to see how to control the Excitebike 64 game