Pokémon Snap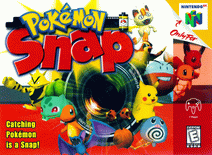 Game title:
Pokémon Snap
Platform:
Nintendo 64
Author:
HAL, Nintendo
Release:
1999
Genre:
Action, Shooter
Mode:
Single-player
Design:
Yoichi Yamamoto, Satoru Iwata, Shigezo Kawase
Music:
Ikuko Mimori
Game manual:
Pokemon_Snap_-_Nintendo_-_Manual.pdf
Play Pokémon Snap online in your browser without download and enjoy with RetroMania Online Emulator! Pokémon Snap is classic game for N64 has Action, Shooter genres for Nintendo 64 retro console. If you love N64 Online games you can also find other emulator games on our site.
Pokémon Snap is a first-person rail shooter and simulation video game co-developed by HAL Laboratory and Pax Softnica and published by Nintendo for the Nintendo 64. It was first released in Japan in March 1999, and was later released in June 1999 in North America and in September 2000 for PAL regions. It is a spin-off game in the Pokémon series, being one of the first console-based games for it, and featuring many Pokémon rendered for the first time in real-time 3D. The game was re-released for the Wii's Virtual Console in December 2007 as well as Wii U's Virtual Console in 2016.
Todd Snap, a Pokémon photographer, is summoned by Professor Oak to Pokémon Island, a place with a variety of climatic and geographic regions where Pokémon live relatively undisturbed by humans. Oak needs quality pictures to accompany his scientific findings, and knows from past experience that Todd is the right person for the job. Using a motorized, amphibious buggy named the Zero-One, Todd explores the island and takes photographs of the wide variety of Pokémon that inhabit its environments.
From Professor Oak's research hub, the player can select between the game's levels and features using a menu system. The path through the levels is linear, similar to a rail shooter. Up to 60 pictures can be taken per visit to a course. After completing a course, the player selects their best picture of each Pokémon to be rated by Professor Oak and added to the Pokémon Report. Scoring takes into account various aspects of the pictures, such as the Pokémon's size, its pose, and keeping the Pokémon in frame. Extra points are awarded for capturing a 'special' pose or Pokémon, such as a surfing Pikachu, and if there are multiples of the same Pokémon within the frame. Scoring well in the Pokémon Report and photographing a wide variety of Pokémon is required to make progress in the game. Players can also use an 'Album Mark' to mark their favorite pictures; this adds the pictures to a personal in-game album to view at a later date or show to friends.
Players start out with only a camera, but as they progress, Professor Oak will provide them with a number of special items used to obtain better photographs. The game features seven levels: Beach, Tunnel, Volcano, River, Cave, Valley, and the special course 'Rainbow Cloud.' However, the staggered acquisition of items ensures that the player must re-explore the courses to discover new material. Levels must be replayed after acquiring new items in order to locate hidden Pokémon, alternate routes, or photographic opportunities that yield the best scores. The first item, apple-shaped Pokémon food, can be thrown to either stun or attract Pokémon. Another, 'Pester Balls', are able to knock out Pokémon or flush them out of hiding. The Poké-Flute item is used in a variety of ways, such as awakening, irritating, or hatching Pokémon. It can cause Pokémon to dance, and it can play three different songs, resulting in different dances from certain Pokémon. Additionally, players can obtain a Dash Engine for the Zero One, allowing the vehicle to accelerate and move faster than normal.
More details about this game can be found on
Wikipedia
How to play:
Click on the joystick icon in the Pokémon Snap online emulator to see how to control the Pokémon Snap game