Road Rash 64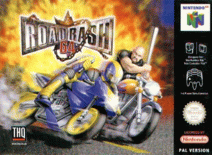 Game title:
Road Rash 64
Platform:
Nintendo 64
Author:
THQ
Release:
1999
Genre:
Racing
Mode:
Multiplayer
Design:
Richard McGovern, Cory Ondrejka, Gabriel Jones
Music:
Steve Kirk
Game manual:
Road_Rash_64_-_Nintendo_64_-_Manual.pdf
Played:
11,960 times
Play Road Rash 64 online in your browser without download and enjoy with RetroMania Online Emulator! Road Rash 64 is classic game for N64 has Racing genre for Nintendo 64 retro console. If you love N64 Online games you can also find other emulator games on our site.
Road Rash 64 is a racing video game developed by Pacific Coast Power and Light and published by THQ for the Nintendo 64. The game is the fifth of six entries in the Road Rash series of video games, the only entry to be published by THQ and the only to be released for the Nintendo 64 platform.
The game plays similarly to previous games developed in the Road Rash series, which involves the player racing their motorcycle against other motorcyclists. While racing, the player has the option of punching, or using weapons to attack other racers, to slow down their progress. The ultimate goal is to place first in the race, and do damage to others, in order to gain more money to upgrade the player's motorcycle. Conversely, the worst scenario is to be 'busted' by police officers, who intervene when situations get too hectic or racers damage them, which costs the player money. If the player was unable to afford the fine, that game is over. In a similar situation, it was also possible to lose without getting busted; should a player's damages become sufficiently acute the motorcycle would be sent to a mechanic who would charge for parts and labor in order to get back into the game. Being unable to afford the mechanic's bill had the same consequences as being busted and unable to pay.
Unlike past games in the series, which used a single long road in independent locales, the game took place on routes laid out through an interconnected road system. The race routes were pieced together from branching road segments. Another new feature is the Cop Mode, which lets players switch roles as a police officer trying to 'bust' the other racers.
The game featured licensed music from bands such as Sugar Ray, CIV, The Mermen, and Full on the Mouth. Sugar Ray contributed two songs, one of which was 'Mean Machine', from their debut album Lemonade and Brownies.
More details about this game can be found on
Wikipedia
How to play:
Click on the joystick icon in the Road Rash 64 online emulator to see how to control the Road Rash 64 game