Top Gear Rally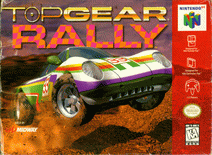 Game title:
Top Gear Rally
Platform:
Nintendo 64
Author:
Boss Game Studios, Midway
Release:
1997
Genre:
Racing
Mode:
Multiplayer
Design:
Brian Fehdrau, Brian Sostrom, Brian Sostrom
Music:
Barry Leitch
Game manual:
Top_Gear_Rally_-_Nintendo_64_-_Manual.pdf
Played:
23,986 times
Play Top Gear Rally online in your browser without download and enjoy with RetroMania Online Emulator! Top Gear Rally is classic game for N64 has Racing genre for Nintendo 64 retro console. If you love N64 Online games you can also find other emulator games on our site.
Top Gear Rally is a rally game for the Nintendo 64, Game Boy Color and Game Boy Advance. The Game Boy Color version was released under the name Top Gear Pocket, although the European release uses the original name; the Game Boy Advance version was released in Japan under the game Top Gear Rally SP. It features five tracks. It has a feature that allows the user to give their virtual cars custom paint jobs. Although the name stayed the same, the developers changed between consoles. As a result, the games are very different depending on the platform, but they have similar features such as the paint shop.
On the Nintendo 64, Top Gear Rally features a realistic physics model with functioning suspension. Road surfaces, including their imperfections, were modeled to give the player the feeling of actually driving a car. The game has a single-player mode and a two-player mode via split screen.
Each vehicle in the game differs from the others in terms of engine power, tire grip, suspension stiffness, steering tightness, and drive-train (such as front-wheel drive, rear-wheel drive, and four-wheel drive). Vehicles can be damaged, although the damage does not affect performance.
Neither Kemco nor Boss Games Studios had licenses to use real car names, though all the cars are modeled after real vehicles.
The game features a soundtrack consisting of music with roots in the trance genre. The electronic XM music was composed by Barry Leitch, who also worked on the prior Top Gear games for the Super NES. The Japanese and European releases of Top Gear Rally had a different title tune than the North American version. The Japanese and European releases utilized electronic music while the North American version was more mild and dramatic.
More details about this game can be found on
Wikipedia
How to play:
Click on the joystick icon in the Top Gear Rally online emulator to see how to control the Top Gear Rally game