Wave Race 64: Kawasaki Jet Ski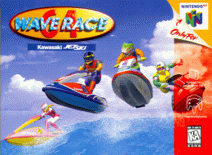 Game title:
Wave Race 64: Kawasaki Jet Ski
Platform:
Nintendo 64
Author:
Nintendo
Release:
1996
Genre:
Racing
Mode:
Multiplayer
Design:
Katsuya Eguchi, Shigeru Miyamoto, Keizo Ohta
Music:
Kazumi Totaka
Game manual:
Wave_Race_64_-_Nintendo_64_-_Manual.pdf
Played:
6,381 times
Play Wave Race 64: Kawasaki Jet Ski online in your browser without download and enjoy with RetroMania Online Emulator! Wave Race 64: Kawasaki Jet Ski is classic game for N64 has Racing genre for Nintendo 64 retro console. If you love N64 Online games you can also find other emulator games on our site.
Wave Race 64 is a racing video game developed by Nintendo EAD and published by Nintendo. It was released for the Nintendo 64 in 1996 and is a follow-up to the 1992 Game Boy title Wave Race. Most of the game involves the player racing on a Jet Ski on a variety of courses while successfully manoeuvring the vehicle around various buoys. A multiplayer mode where two players can compete against each other on a chosen course is also included. The game supports the Controller Pak, which allows players to transfer saved data from one game cartridge to another.
Originally referred to as 'F-Zero on water', the game was intended to feature high-speed boats with transforming capabilities, but these were ultimately replaced with Jet Skis as producer Shigeru Miyamoto felt that the game would not be differentiated enough from other titles on other systems. Wave Race 64 received acclaim from critics, who praised the game's satisfying controls and dynamic watery environments. The game is credited for helping Nintendo effectively make its paradigmatic leap from the 16-bit 2D graphics of the Super Nintendo Entertainment System to the Nintendo 64's 3D capabilities. It was re-released for the Wii and Wii U's Virtual Console in 2007 and 2016, respectively. A sequel, Wave Race: Blue Storm, was released in 2001.
Wave Race 64 is a racing game in which players race on Jet Skis in different weather conditions and on a variety of courses. The game features three single-player modes (Championship, Time Trials, and Stunt Mode) as well as a multiplayer mode for competitive play. In the Championship mode, the player must race opponents through a series of courses and win the first place. Up to four levels of difficulty can be chosen: Normal, Hard, Expert and Reverse, the latter being Expert with the tracks oriented backwards. Hard, Expert, and Reverse must be unlocked by completing an earlier difficulty. The difficulty also determines the number of courses played: six in Normal, seven in Hard, and eight in Expert/Reverse. When the player completes a course, points are awarded based on the rank they finished. If the required quantity is not met, the player will be disqualified and the game will be over.
While racing opponents, the player must successfully manoeuvre the Jet Ski around various buoys. There are two types of buoys: red colored, which must be passed on the right side, and yellow buoys, which must be passed on the left side. Each time a buoy is correctly passed, a power arrow in the game's HUD will light, allowing the player's Jet Ski to gain speed. Up to five power arrows can be lit in order to obtain maximum power. Therefore, maintaining this process will allow the player to maintain a high speed. Failure to correctly pass a single buoy will result in the loss of all the player's accumulated power (though the power arrows can be lit again one by one) and missing five buoys over the course of a race will result in disqualification. Leaving the course area limited by pink buoys for more than five seconds will also result in disqualification.
In Time Trials, the player can freely race on a course to perform the best times, which are recorded in the game's data. In the Stunt Mode, the player must earn points by executing stunts and passing through rings. The points depend upon how many rings the player passes through without missing, as well as the class of stunt that has been performed. The multiplayer mode uses a horizontal split-screen and allows two players to compete against each other on a chosen course. Only the courses that have been unlocked in the Championship mode can be played in the Time Trials, Stunt, and multiplayer modes. The game offers four personalized racers for players to select from, each having their own strengths and weaknesses. A Nintendo 64 Controller Pak can be used to transfer saved data from one game cartridge to another.
More details about this game can be found on
Wikipedia
How to play:
Click on the joystick icon in the Wave Race 64: Kawasaki Jet Ski online emulator to see how to control the Wave Race 64: Kawasaki Jet Ski game