Arkanoid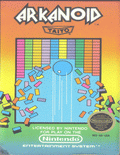 Game title:
Arkanoid
Platform:
Nintendo Entertainment System (NES)
Author:
Taito
Release:
1986
Genre:
Action
Mode:
Multiplayer
Game manual:
NintendoNESArkanoid.pdf
Played:
171,636 times
Play Arkanoid online in your browser without download and enjoy with RetroMania Online Emulator! Arkanoid is classic game for NES has Action genre for Nintendo Entertainment System (NES) retro console. If you love NES Online games you can also find other emulator games on our site.
Arkanoid is an arcade game developed by Taito in 1986. It expanded upon Atari's Breakout games of the 1970s by adding power-ups, different types of bricks, and a variety of level layouts. The title refers to a doomed 'mothership' from which the player's ship, the Vaus, escapes.
The player controls the 'Vaus', a space vessel that acts as the game's 'paddle' which prevents a ball from falling from the playing field, attempting to bounce it against a number of bricks. The ball striking a brick causes the brick to disappear. When all the bricks are gone, the player goes to the next level, where another pattern of bricks appears. There are a number of variations (bricks that have to be hit multiple times, flying enemy ships, etc.) and power-up capsules to enhance the Vaus (expand the Vaus, multiply the number of balls, equip a laser cannon, break directly to the next level, etc.), but the gameplay remains the same.
More details about this game can be found on
Wikipedia
How to play:
Click on the joystick icon in the Arkanoid online emulator to see how to control the Arkanoid game