Balloon Fight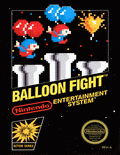 Game title:
Balloon Fight
Platform:
Nintendo Entertainment System (NES)
Author:
Nintendo
Release:
1984
Genre:
Action
Mode:
Multiplayer
Design:
Yoshio Sakamoto
Music:
Hirokazu Tanaka
Game manual:
Balloon_Fight_-_Manual_-_NES.pdf
Played:
127,488 times
Play Balloon Fight online in your browser without download and enjoy with RetroMania Online Emulator! Balloon Fight is classic game for NES has Action genre for Nintendo Entertainment System (NES) retro console. If you love NES Online games you can also find other emulator games on our site.
Balloon Fight is a 1985 video game developed by Nintendo. The Arcade (Nintendo Vs. System), Vs. Balloon Fight, was originally released in 1984 and its Nintendo Entertainment System counterpart was Internationally released in 1986. The gameplay is similar to the arcade game Joust by Williams Electronics.
The player controls the unnamed Balloon Fighter with two balloons attached to his helmet. Repeatedly pressing the A button or holding down the B button causes the Balloon Fighter to flap his arms and rise into the air. If a balloon is popped, the player's flotation is decreased, making it harder to rise. A life is lost if both balloons are popped by enemy Balloon Fighters, if the player falls in the water, gets eaten by the large piranha near the surface of the water, or is hit by lightning.
There are two modes of play: the 1-player/2-player game where the goal is to clear the screen of enemies, and Balloon Trip where the goal is to avoid obstacles in a side-scrolling stage. The original Arcade game does not include Balloon Trip, but all the level layouts are completely different so as to take advantage of vertical scrolling in addition to some minor gameplay differences.
More details about this game can be found on
Wikipedia
How to play:
Click on the joystick icon in the Balloon Fight online emulator to see how to control the Balloon Fight game