BurgerTime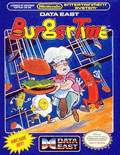 Game title:
BurgerTime
Platform:
Nintendo Entertainment System (NES)
Author:
Data East
Release:
1982
Genre:
Action, Puzzle, Platform
Mode:
Multiplayer
Design:
Ron Surratt
Music:
Patricia Lewis Du Long
Game manual:
NintendoNESBurgertime.pdf
Played:
151,912 times
Play BurgerTime online in your browser without download and enjoy with RetroMania Online Emulator! BurgerTime is classic game for NES has Action, Puzzle, Platform genres for Nintendo Entertainment System (NES) retro console. If you love NES Online games you can also find other emulator games on our site.
BurgerTime is a 1982 arcade game created by Data East for its DECO Cassette System. The game's original title, Hamburger, was changed to BurgerTime before its introduction to the US. The player is chef Peter Pepper, who must walk over hamburger ingredients located across a maze of platforms while avoiding pursuing characters. In the US, Data East USA licensed BurgerTime for distribution by Bally Midway. The Data East and Midway versions are distinguished by the manufacturer's name on the title screen and by the marquee and cabinet artworks.
The object of the game is to complete a number of hamburgers while avoiding enemy foods. When main protagonist, chef Peter Pepper, the player's character, walks the length of an ingredient (bun, meat patty, tomato, etc.), it falls one level. If it lands atop another ingredient, the latter in turn falls one level. A burger is completed when all vertically aligned ingredients have been dropped out of the maze and onto a waiting plate. Once all burgers are completed, the game level is finished.
While making burgers, the player must avoid the antagonists, three types of enemies: Mr. Hot Dog, Mr. Pickle, and Mr. Egg. Enemies can be dodged, stunned, crushed with a falling ingredient, or dropped by luring them onto an ingredient and then causing it to fall. In this last case, the piece will fall much farther than normal, depending on how many enemies are on it. Enemies that have been crushed or dropped return to the maze after a few seconds. Dropped enemies award larger point values than crushed ones; therefore, to obtain a high score, the player must attract more than one enemy onto an ingredient just before dropping it.
Peter Pepper has pepper shots to shake on nearby enemies to stun and render them harmless for a few seconds. Extra shots are obtained by collecting bonus foods, such as coffee, an ice cream cone, or French fries, which appear in the center of the maze when a certain number of ingredients have dropped.
There are six screens of increasing difficulty, with more burgers and enemies, burgers that have more parts, and/or layouts that make it easier for Peter Pepper to be cornered and harder for him to reach the ingredients. Completing all six screens takes the player back to the first one.
More details about this game can be found on
Wikipedia
How to play:
Click on the joystick icon in the BurgerTime online emulator to see how to control the BurgerTime game