Championship Lode Runner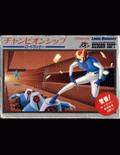 Game title:
Championship Lode Runner
Platform:
Nintendo Entertainment System (NES)
Author:
Brøderbund Software
Release:
1984
Genre:
Action, Puzzle, Platform
Mode:
Single-player
Design:
Douglas E. Smith
Played:
71,151 times
Play Championship Lode Runner online in your browser without download and enjoy with RetroMania Online Emulator! Championship Lode Runner is classic game for NES has Action, Puzzle, Platform genres for Nintendo Entertainment System (NES) retro console. If you love NES Online games you can also find other emulator games on our site.
Championship Lode Runner is the champion's version of Lode Runner and its sequel. The game may also be found on a pirate NES cartridge under the names Super Load Runner or Load Runner 2. This game shares the same status with the Ultima and Wizardry games which had sizeable spin-offs in Japan that were mostly unknown in North America. Far more Lode Runner games were released in Japan than there were in North America. Expect a very long game with either this or any other game in the Lode Runner series.
The object of the game is to pick up all the gold pieces (which appear as piles of gold) and get them to the top. Using non-violent methods, enemies had to be overcome. Bumping into enemies cost the player a life and all of his hard-earned gold pieces. Fifty of the hardest levels ever designed are used and they had to be tackled in proper sequential order. While games can be saved, the player automatically loses a life for restoring his game.
The Apple II version offered players a certificate for completing the game. Players sent in a code that was on the package's sticker along with a countercode (to prove that the game was beaten). However, the NES dumps the player straight back to the first level. The Apple II version allows monsters to be suppressed until they are about to appear while the NES version makes their resurrection completely fatal to the player. NES players can start at any of the first ten levels while needing passwords to skip to the next levels.
The game is an example of the 'trap-em-up' genre, which also includes games like Heiankyo Alien (1979) and Space Panic (1980).
More details about this game can be found on
Wikipedia
How to play:
Click on the joystick icon in the Championship Lode Runner online emulator to see how to control the Championship Lode Runner game