Disney's Aladdin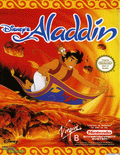 Game title:
Disney's Aladdin
Platform:
Nintendo Entertainment System (NES)
Author:
Virgin, Capcom
Release:
1993
Genre:
Action, Platform
Mode:
Single-player
Design:
David Bishop, David Perry, Shinji Mikami
Music:
Tommy Tallarico, Donald Griffin, Yuki Iwai, ...
Played:
140,240 times
Play Disney's Aladdin online in your browser without download and enjoy with RetroMania Online Emulator! Disney's Aladdin is classic game for NES has Action, Platform genres for Nintendo Entertainment System (NES) retro console. If you love NES Online games you can also find other emulator games on our site.
Disney's Aladdin is a platform video game based on the 1992 motion picture of the same name. It is one of several video games based on this film, including one game that was released in the same month by Capcom for the Super Nintendo Entertainment System..
The player controls Aladdin, who must make his way through several levels based on locations from the movie: from the streets and rooftops of Agrabah, the Cave of Wonders and the Sultan's dungeon to the final confrontation in Grand Vizier Jafar's palace. The Sultan's guards and also animals of the desert want to hinder Aladdin in his way. He can attack either close range with a scimitar, which can deflect certain projectiles, or long range with a limited supply of apples. Next to apples, Aladdin can also collect gems which can be traded for lives and continues from a traveling peddler. Finding Genie or Abu icons enables bonus rounds. The Genie bonus round is a game of luck played for apples, gems or extra lives, and continues until the player runs out of Genie tokens or lands on Jafar. In Abu's bonus round, the player controls the little monkey who has to catch bonus items that fall from the sky, but without touching any of the unwanted objects like rocks and pots.
More details about this game can be found on
Wikipedia
How to play:
Click on the joystick icon in the Disney's Aladdin online emulator to see how to control the Disney's Aladdin game