Disney's DuckTales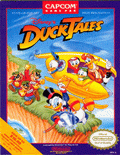 Game title:
Disney's DuckTales
Platform:
Nintendo Entertainment System (NES)
Author:
Capcom
Release:
1989
Genre:
Action, Platform
Mode:
Single-player
Design:
Yoshinori Takenaka, Nobuyuki Matsushima, Tokuro Fujiwara, Keiji Inafune, Naoya Tomita, Hironori Matsumara, Miki Kijima
Music:
Hiroshige Tonomura
Game manual:
NintendoNESDuckTales1.pdf
Played:
136,804 times
Play Disney's DuckTales online in your browser without download and enjoy with RetroMania Online Emulator! Disney's DuckTales is classic game for NES has Action, Platform genres for Nintendo Entertainment System (NES) retro console. If you love NES Online games you can also find other emulator games on our site.
DuckTales is an action platformer video game developed by Capcom and based on the Disney animated TV series of the same name. It was first released in North America for the Nintendo Entertainment System in 1989 and was later ported to the Game Boy in 1990. The story involves Scrooge McDuck traveling across the globe collecting treasure and outwitting his rival Flintheart Glomgold to become the world's richest duck.
Produced by key personnel from the Mega Man series, DuckTales would go on to sell over a million copies worldwide on each system, becoming Capcom's best-selling title for both platforms. The game was praised for its tight control, unique and non-linear gameplay and bright presentation, and is often regarded as one of the best titles for the NES, appearing on numerous 'Best of' lists.
DuckTales was followed by a sequel, DuckTales 2, in 1993. A Remastered version of DuckTales developed by WayForward Technologies, featuring high resolution graphics and the original voice cast from the show, was released in 2013 for PC, Xbox 360, PlayStation 3, and Wii U.
The game sees players in the role of Scrooge McDuck as he travels across the world in search of five treasures to further increase his fortune. Scrooge is able to attack enemies and get around using his cane. On the ground, Scrooge can swing his cane to attack enemies and break open or throw certain objects. While jumping, Scrooge can bounce on his cane like a pogo stick to attack enemies from above. This also allows him to reach higher areas, as well as bounce across hazardous areas that would hurt him on foot. Along the way, Scrooge can find various diamonds, found in treasure chests or appearing in certain areas, to increase his fortune and ice cream that can restore his health. Scrooge will also encounter various characters from the series who have various roles, such as providing hints, offering up items and opening up new areas.
Five levels are available in DuckTales: African Mines, The Amazon, The Himalayas, Transylvania and The Moon. The player can visit the levels in any order and can revisit them in order to access new areas unlocked after collecting certain items. Each level culminates in a boss battle that the player must defeat to retrieve that level's treasure. There are also two secret treasures hidden within some of the levels. When all five main treasures are collected, the player returns to Transylvania for the final boss fight. Upon completing the game, the player can receive one of three endings based on his performance: a regular ending for simply clearing the game, a great ending for clearing the game with both hidden treasures and at least $10,000,000, and a bad ending for clearing the game with $0.
More details about this game can be found on
Wikipedia
How to play:
Click on the joystick icon in the Disney's DuckTales online emulator to see how to control the Disney's DuckTales game