Donkey Kong Jr.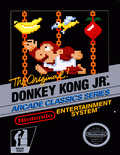 Game title:
Donkey Kong Jr.
Platform:
Nintendo Entertainment System (NES)
Author:
Nintendo
Release:
1982
Genre:
Action, Platform
Mode:
Multiplayer
Design:
Shigeru Miyamoto
Music:
Yukio Kaneoka
Game manual:
Donkey_Kong_Jr_-_Manual_-_NES.pdf
Played:
140,548 times
Play Donkey Kong Jr. online in your browser without download and enjoy with RetroMania Online Emulator! Donkey Kong Jr. is classic game for NES has Action, Platform genres for Nintendo Entertainment System (NES) retro console. If you love NES Online games you can also find other emulator games on our site.
Donkey Kong Jr. is a 1982 arcade-style platform video game by Nintendo. It first appeared in arcades, and, over the course of the 1980s, was later released for a variety of platforms, most notably the Nintendo Entertainment System. The game's title is written out as Donkey Kong Junior in the North American arcade version and various ports to non-Nintendo systems. Its eponymous star, Donkey Kong Jr., also called simply Junior or abbreviated as DK Jr., is trying to rescue his father Donkey Kong, who has been imprisoned. Donkey Kong's cage is guarded by Mario, in his only appearance as an antagonist in a video game. This game is the sequel to the video game Donkey Kong, which featured Mario as the hero and Junior's father as the villain.
Mario (known as Jumpman in Donkey Kong) has captured Donkey Kong and placed him in a cage. Donkey Kong Jr. must rescue his father from Mario by working his way through a series of stages. Mario attempts to stop DK Jr. by releasing animals and putting obstacles in his way. When DK Jr. succeeds at the final level, Donkey Kong is freed and kicks Mario into the distance, leaving him to an unknown fate.
More details about this game can be found on
Wikipedia
How to play:
Click on the joystick icon in the Donkey Kong Jr. online emulator to see how to control the Donkey Kong Jr. game