F-1 Race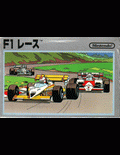 Game title:
F-1 Race
Platform:
Nintendo Entertainment System (NES)
Author:
Nintendo
Release:
1984
Genre:
Racing
Mode:
Single-player
Design:
Hiroshi Yamauchi, Masayuki Uemura, Yasunari Soejima
Music:
Hideki Kanazashi, Hiroaki Suga
Game manual:
F-1 Race_-_NES_-_Manual.pdf
Play F-1 Race online in your browser without download and enjoy with RetroMania Online Emulator! F-1 Race is classic game for NES has Racing genre for Nintendo Entertainment System (NES) retro console. If you love NES Online games you can also find other emulator games on our site.
In this game, which is similar to Pole Position, the player takes control of an F1 car. The player can race the vehicle on one of three different skill levels. Each skill level contains five different tracks for the player to race on. On each of these tracks, the player must complete 2 laps before a countdown timer expires. The player must also try not to crash into other racers and obstacles on the sides of the road. The vehicle has a manual transmission, so the player has to switch between low and hi gear while racing.
More details about this game can be found on
MobyGames
How to play:
Click on the joystick icon in the F-1 Race online emulator to see how to control the F-1 Race game