Ghosts 'N Goblins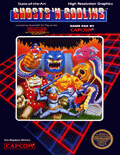 Game title:
Ghosts 'N Goblins
Platform:
Nintendo Entertainment System (NES)
Author:
Capcom
Release:
1985
Genre:
Action, Platform
Mode:
Multiplayer
Design:
Tokuro Fujiwara, Toshio Arima, Masayoshi Kurokawa, Richard Frankish, David Percival
Music:
Ayako Mori, Mark Cooksey
Game manual:
NintendoNESGhostsNGoblins.pdf
Played:
110,467 times
Play Ghosts 'N Goblins online in your browser without download and enjoy with RetroMania Online Emulator! Ghosts 'N Goblins is classic game for NES has Action, Platform genres for Nintendo Entertainment System (NES) retro console. If you love NES Online games you can also find other emulator games on our site.
Ghosts 'n Goblins is a 1985 side-scrolling platforming game developed by Capcom for video arcades and has since been released on several other platforms. It is the first game in the Ghosts 'n Goblins franchise.
Ghosts 'n Goblins is a platform game where the player controls a knight, named Sir Arthur, who must defeat zombies, ogres, demons, cyclops, dragons and other monsters in order to rescue Princess Prin Prin, who has been kidnapped by Satan, king of Demon World. Along the way the player can pick up new weapons, bonuses and extra suits of armor that can help in this task.
The game is often considered very difficult by arcade standards and is commonly regarded as one of the most difficult games ever released. The game is considered by Gametrailers.com to be the world's second most difficult game ever made. The player can only be hit twice before losing a life (the first hit takes away Arthur's armor, and the player must continue on in his underwear until completing the level, or finding replacement armor). If the player loses a life, he is returned to the start of the level, or the halfway point if he has managed to get that far. Furthermore, each life can only last a certain length of time (generally around three minutes), the clock being reset at the start of a level. If the clock does run out, the player instantly loses that life.
After defeating the final boss, but only with the cross weapon (if the player does not have the cross weapon, they will be prompted that it is needed to defeat the boss and restart at the beginning of level 5 and must repeat round 5 and 6 again regardless if the weapon is obtained immediately or not) for the first time the player is informed that the battle was 'a trap devised by Satan'. The player must then replay the entire game on a higher difficulty level to reach the genuine final battle.
The NES version was developed by Micronics. This also serves as the basis for the Game Boy Color version, which uses passwords to allow the player to jump to certain levels. The NES version was ported to the Game Boy Advance as part of Classic NES series, but only in Japan.
More details about this game can be found on
Wikipedia
How to play:
Click on the joystick icon in the Ghosts 'N Goblins online emulator to see how to control the Ghosts 'N Goblins game