Goal!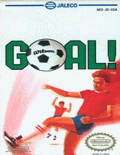 Game title:
Goal!
Platform:
Nintendo Entertainment System (NES)
Author:
Jaleco
Release:
1988
Genre:
Sport
Mode:
Multiplayer
Game manual:
NintendoNESGoal!.pdf
Played:
60,706 times
Play Goal! online in your browser without download and enjoy with RetroMania Online Emulator! Goal! is classic game for NES has Sport genre for Nintendo Entertainment System (NES) retro console. If you love NES Online games you can also find other emulator games on our site.
Goal! is a 1988 soccer/football video game published by Jaleco for the Nintendo Entertainment System. The game supports up to two players. It was released in Japan as Moero !! Pro Soccer.
The game has four modes: World Cup, Tournament, Shoot Competition, and Vs. Mode. The object of the game is the same as in real football; one team must score more goals than the other to win.
In World Cup mode, players must choose one of sixteen international football teams and compete to advance to the finals. The teams are: Algeria, Argentina, Belgium, Brazil, Denmark, England, France, West Germany, Italy, Japan, the Netherlands, Poland, Spain, Uruguay, United States, and the USSR.In Tournament mode, players must choose one of eight American teams and compete in a standard single elimination tournament.In Shoot Competition mode, players must choose one of three characters and try to score as many shots out of five as possible.In Vs. Mode, two human players face off against each other.
When playing World Cup or Tournament mode with two players, the players can either play on the same team or against each other.
Jaleco followed the game with several sequels and localizations, including Goal! Two for the NES (titled Goal! in the North American SNES version, and retitled Super Goal! for the European release), and Super Goal! 2. In 1993, Jaleco published Tose's Game Boy port of Goal!, which Tose adapted from their Japanese Game Boy release J-Cup Soccer.
More details about this game can be found on
Wikipedia
How to play:
Click on the joystick icon in the Goal! online emulator to see how to control the Goal! game