Golf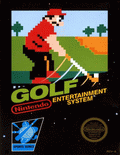 Game title:
Golf
Platform:
Nintendo Entertainment System (NES)
Author:
Nintendo
Release:
1984
Genre:
Sport
Mode:
Multiplayer
Game manual:
NintendoNESGolf.pdf
Played:
66,835 times
Play Golf online in your browser without download and enjoy with RetroMania Online Emulator! Golf is classic game for NES has Sport genre for Nintendo Entertainment System (NES) retro console. If you love NES Online games you can also find other emulator games on our site.
Golf is a sports-simulation video game released in 1985 for the Nintendo Entertainment System. It was originally released in Japan in 1984 for the Nintendo Family Computer. The golfer is a mustached man who resembles Mario. The player one character wears a white shirt and shoes with blue pants and uses a white ball, while the player two character wears a red shirt and shoes with black pants and uses a red ball.
The user must first decide whether to play single stroke play or the two player selections of doubles stroke play or match play. The user is then placed at the tee of the first hole of eighteen. It was the first golf game to feature a power/accuracy bar for swinging the club. The power bar method has been used in most golf games since.
More details about this game can be found on
Wikipedia
How to play:
Click on the joystick icon in the Golf online emulator to see how to control the Golf game