Hot Slots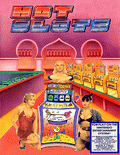 Game title:
Hot Slots
Platform:
Nintendo Entertainment System (NES)
Author:
Panesian Ltd.
Release:
1991
Genre:
Adult, Simulator
Mode:
Single-player
Game manual:
Hot_Slots_-_NES.pdf
Played:
41,091 times
Play Hot Slots online in your browser without download and enjoy with RetroMania Online Emulator! Hot Slots is classic game for NES has Adult, Simulator genres for Nintendo Entertainment System (NES) retro console. If you love NES Online games you can also find other emulator games on our site.
Hot Slots, or AV Pachisuro, is a slot machine simulation video game developed by Hacker International for the NES/Famicom, and published by Panesian Taiwan in 1991.
To begin a game, the player chooses one of three slot machines: Cutie Bunny, Juicy Fruits, or Las Vegas. Each machine has a distinct visual design and musical score. After purchasing 'medallions' (token coins), the player may play up to five medallions in a machine for each pull. The player stops each reel by pressing a direction on the D-pad. Between spins, the player can optionally switch to another machine.
Hot Slots is an eroge, a video game that rewards game progress, persistence, or performance with images that are sexually explicit or suggestive. Each slot machine is accompanied by a scantily-clad hostess, who appears at intervals when the player's winnings surpass a certain threshold. When the player nets a profit of $210, the game displays a full-screen cartoon image of the partially clothed hostess with a caption or speech balloon. At a net profit of $300, she loses more of her clothing; at $450, she appears nude.
More details about this game can be found on
Wikipedia
How to play:
Click on the joystick icon in the Hot Slots online emulator to see how to control the Hot Slots game