Micro Machines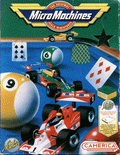 Game title:
Micro Machines
Platform:
Nintendo Entertainment System (NES)
Author:
Codemasters Software
Release:
1991
Genre:
Racing
Mode:
Multiplayer
Design:
Andrew Graham, Jonathan Menzies, Paul Perrott, Stewart Graham
Music:
Matt Gray
Game manual:
NintendoNESMicroMachines.pdf
Played:
61,325 times
Play Micro Machines online in your browser without download and enjoy with RetroMania Online Emulator! Micro Machines is classic game for NES has Racing genre for Nintendo Entertainment System (NES) retro console. If you love NES Online games you can also find other emulator games on our site.
Micro Machines is the first game in the series laid the foundation of the gameplay: a top-down racing game with miniature vehicles. The race tracks are unconventionally themed. For example, some races take place on a billiard table while others occur in a garden. The cartridge itself was gold (black in Europe) with a switch at the bottom in order to be compatible with the American and European hardware. It was also released as an add-on to the Aladdin Deck Enhancer created by Codemasters.
The game was ranked the 14th best game of all time by Amiga Power, while Mega placed the game at #10 in their Top Mega Drive Games of All Time. MegaTech gave the game 92% and a Hyper Game award. A remake of this game was later released in 2002. This version featured advanced graphics as well as characters having unique vehicles. Though it adhered as closely as possible to the original version, something was said to have been 'lost in the translation'.
More details about this game can be found on
Wikipedia
How to play:
Click on the joystick icon in the Micro Machines online emulator to see how to control the Micro Machines game