Paperboy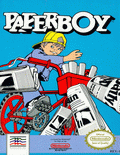 Game title:
Paperboy
Platform:
Nintendo Entertainment System (NES)
Author:
Atari Games
Release:
1984
Genre:
Action
Mode:
Multiplayer
Design:
Carl Bedard, John Salwitz, Dave Ralston, Russel Dawe
Music:
Hal Canon, Earl Vickers
Game manual:
NintendoNESPaperboy.pdf
Played:
126,017 times
Play Paperboy online in your browser without download and enjoy with RetroMania Online Emulator! Paperboy is classic game for NES has Action genre for Nintendo Entertainment System (NES) retro console. If you love NES Online games you can also find other emulator games on our site.
Paperboy is a 1984 arcade game by Atari Games. The players take the role of a paperboy who delivers newspapers along a suburban street on his bicycle. The game was ported to numerous video game consoles and personal computers. The Nintendo Entertainment System (NES) version represented the first NES game developed in the United States and coincidentally, the Sega Master System version represented the first SMS game developed in the United Kingdom. Paperboy was innovative for its theme and novel controls.
The player controls a paperboy on a bicycle delivering newspapers along a suburban street which is displayed in a cabinet perspective (or oblique projection) view. The player attempts to deliver a week of daily newspapers to subscribing customers, attempts to vandalize non-subscribers' homes and must avoid hazards along the street. Subscribers are lost by missing a delivery or damaging a subscriber's house.
The game begins with a choice of difficulty levels: Easy Street, Middle Road and Hard Way. The object of the game is to perfectly deliver papers to subscribers for an entire week and avoid crashing (which counts as one of the player's lives) before the week ends. The game lasts for seven in-game days, Monday through Sunday.
Controlling the paperboy with the handlebar controls, the player attempts to deliver newspapers to subscribers. Each day begins by showing an overview of the street indicating subscribers and non-subscribers. Subscribers and non-subscribers' homes are also easy to discern in the level itself, with subscribers living in brightly colored houses, and non-subscribers living in dark houses.
Paperboy was ported to consoles and home computers, starting in 1986. In some of these versions, the player could assume the role of a papergirl instead of a paperboy. Paperboy was ported to the BBC Micro and Acorn Electron (by Andy Williams, 1986), Commodore 64 (by Chris Harvey and Neil A Bate, 1986), Commodore 16 (1986), Amstrad CPC (1986), ZX Spectrum (1986), Apple II (1986), TRS-80 Color Computer (1986), DOS (1988), Apple IIGS (1988), NES/Famicom (1988)(1991, Japan), Game Boy (1990), Game Boy Color (1999), Atari ST (1989), Amiga (1989), Atari Lynx (1990), Sega Master System (1990), Game Gear (1991), and Sega Mega Drive/Genesis (1991)(1992, Japan).
More details about this game can be found on
Wikipedia
How to play:
Click on the joystick icon in the Paperboy online emulator to see how to control the Paperboy game