Rad Racer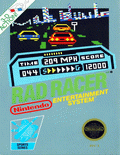 Game title:
Rad Racer
Platform:
Nintendo Entertainment System (NES)
Author:
Square
Release:
1987
Genre:
Racing
Mode:
Single-player
Design:
Hironobu Sakaguchi, Nasir Gebelli
Music:
Nobuo Uematsu
Game manual:
NintendoNESRadRacerI.pdf
Played:
66,173 times
Play Rad Racer online in your browser without download and enjoy with RetroMania Online Emulator! Rad Racer is classic game for NES has Racing genre for Nintendo Entertainment System (NES) retro console. If you love NES Online games you can also find other emulator games on our site.
Rad Racer, originally released in Japan as Highway Star, is a racing game developed and published by Square for the Family Computer in 1987. In this game, players drive a Ferrari 328 or an F1 racing machine through a race course. The game was released for the Nintendo Entertainment System in North America and Europe months after its debut on Family Computer.
The idea of Rad Racer is to rally through a course, and make it to check points before the timer runs out. If a player hits a road sign or tree at any speed the car crashes. Hitting another car directly from behind will severely slow the car down. If another car side swipes your car you will be pushed quickly to the side. At higher levels you can crash by hitting another car. Crashes take time and make it more difficult for the player to reach the check point. There are eight different levels of increasing skill. Even if time runs out, the vehicle can continue to coast for a while; if the vehicle reaches a checkpoint before running out of momentum, the game continues. If time runs out before the goal is reached, the game is over. Rad Racer players can activate a 3D mode during play by pressing the 'Select' button and wearing 3D glasses. The game came packaged with 3D glasses which could be worn to give the player the illusion of three dimensions (Square had previously incorporated the usage of 3D glasses in 3-D WorldRunner).
At the car selection screen, the player can pick one of two cars: a Ferrari 328 or an F1 racing machine, similar in appearance to the 1987 Camel-sponsored Honda/Lotus 99T Formula One car. Although officially there is supposedly no performance gain by choosing the F1 racing machine over the Ferrari 328, this is debated by race fans. Both cars have a maximum speed of 255 km/h (255 is the highest integer representable within 8 bits). In-game, 'turbo' can be activated by pressing the up button to boost the car's speed, and disengaged at any time by releasing the button.
More details about this game can be found on
Wikipedia
How to play:
Click on the joystick icon in the Rad Racer online emulator to see how to control the Rad Racer game