Soccer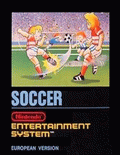 Game title:
Soccer
Platform:
Nintendo Entertainment System (NES)
Author:
Nintendo
Release:
1985
Genre:
Sport
Mode:
Multiplayer
Music:
Koji Kondo
Game manual:
NintendoNESSoccer.pdf
Played:
64,187 times
Play Soccer online in your browser without download and enjoy with RetroMania Online Emulator! Soccer is classic game for NES has Sport genre for Nintendo Entertainment System (NES) retro console. If you love NES Online games you can also find other emulator games on our site.
Soccer is a video game produced by Intelligent Systems and Nintendo as part of its Sports Series for the Nintendo Entertainment System. It was released in Japan in 1985, and was released in the United States and in Europe in 1987. It was also released for the Family Computer Disk System in 1986. It is also available on the Virtual Console since June 12, 2014, to be bought from the Wii Shop Channel and the Wii U Nintendo eShop.
The objective is to kick the ball into the opponent's goal. The game features cheerleaders and the ability to choose between 15, 30, and 45-minutes halves. Pressing B passes the ball, while A shoots at the opponent's goal. There are seven teams represented in the game: Brasil, Spain, France, West Germany, Great Britain, Japan and United States.
More details about this game can be found on
Wikipedia
How to play:
Click on the joystick icon in the Soccer online emulator to see how to control the Soccer game