Track & Field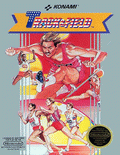 Game title:
Track & Field
Platform:
Nintendo Entertainment System (NES)
Author:
Konami
Release:
1984
Genre:
Action, Sport
Mode:
Multiplayer
Game manual:
NintendoNESTrack&Field.pdf
Played:
181,261 times
Play Track & Field online in your browser without download and enjoy with RetroMania Online Emulator! Track & Field is classic game for NES has Action, Sport genres for Nintendo Entertainment System (NES) retro console. If you love NES Online games you can also find other emulator games on our site.
Track & Field, known in Japan as Hyper Olympic, is a 1983 Olympic-themed sports arcade game developed and published by Konami. The Japanese release sported an official license for the 1984 Summer Olympics.
The arcade version was released in 1983. The simple gameplay, based on quick repeating button presses, set the basics for sequels and similar games in the genre for the next decades. There were several home versions of the original; the ZX Spectrum and Amstrad CPC versions were only released as part of the Game, Set and Match II compilation in 1988, and are poorly regarded by fans. The NES version was especially well-received, and sold well.
In the original arcade game, the player uses two 'run' buttons (or a trackball in later units that replaced the buttons that were continually broken- some buttons were originally replaced with buttons that had guards on them so players could not slam them with their fists) and one 'action' button to control an athlete competing
in following six events:
100 Meter Dash – Running by quickly alternating button presses.Long jump – Running by alternating button press and correct timing for jump. Hold jump button to set angle (42 degrees is optimal).Javelin throw – Running by alternating button presses and then using action button correct timing for angle (43 degrees is optimal).110 Meter Hurdles – Running by alternating button presses and using action button to time hurdlesHammer throw – Spinning initiated by pressing a run button once and then correctly timed press of action button to choose angle (45 is optimal).High jump – Running (speed set by computer) and then action button must be held down to determine angle of jump. Once in the air, the run button can be rapidly pressed for additional height.
In each event, there is a qualifying time or level that the player must achieve to advance to the next event; failing to qualify (in one heat for running events or three tries in the other events) will reduce the player's number of lives by one, but if none are present in his/her disposal, the game will end.Gameplay screenshot of the start of the 100m dash.
The game can accommodate up to four players, who compete in pairs for the running events, and individually for the others. If there are fewer than four players, the remaining slots are played by the computer (or player 'CPU'). In all multiplayer heats, though, the relative performance of the players has no effect on the game, and advancing is based solely on qualifying times. While most multiplayer arcade games had each set of controls relative to the players going from left to right, this game (which has two sets of controls) had a somewhat different setup. The left set of controls were for players 2 and 4, while the right set was for players 1 and 3. This is one of the few classic arcade games where single player mode was played on the right set of controls rather than the left. If a player completes all six events after a brief medal ceremony, he or she is sent back to the field for another round, with higher qualifying levels, however the game can be configured to conclude after the final event.
Because the game responded to repeatedly pressing the 'run' buttons at high frequency, players of the arcade version resorted to various tricks such as rapidly swiping a coin or ping-pong ball over the buttons, or using a metal ruler which was repeated struck such that it would vibrate and press the buttons. As a result arcade operators reported high rates of damage to the buttons and later versions had modifications to prevent such actions.
More details about this game can be found on
Wikipedia
How to play:
Click on the joystick icon in the Track & Field online emulator to see how to control the Track & Field game