Ace of Aces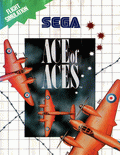 Game title:
Ace of Aces
Platform:
Sega Master System (SMS)
Author:
Accolade, U.S. Gold, Artech
Release:
1986
Genre:
Action, Shooter, Simulator
Mode:
Single-player
Design:
Rick Banks, Michael Bate, Stuart Easterbrook
Music:
Greg Marr
Game manual:
Ace_of_Aces_-_SMS_-_Manual.pdf
Played:
42,726 times
Play Ace of Aces online in your browser without download and enjoy with RetroMania Online Emulator! Ace of Aces is classic game for SegaMS has Action, Shooter, Simulator genres for Sega Master System (SMS) retro console. If you love SegaMS Online games you can also find other emulator games on our site.
Ace of Aces is a combat flight simulator developed by Artech Digital Entertainment and published in 1986 by three different companies: Accolade, U.S. Gold, and Tiertex Design Studios. It was released for the Amstrad CPC, Atari 8-bit family, Atari 7800, Commodore 64, MSX, MS-DOS, Master System, and ZX Spectrum. Set in World War II, the player flies a RAF Mosquito long range fighter-bomber equipped with rockets, bombs and a cannon. Missions include destroying German fighter planes, bombers, V-1 flying bombs, U-boats, and trains. In 1988 Atari Corporation released a version on cartridge styled for the then-new Atari XEGS. Ace of Aces received mixed reviews but went on to become one of the best-selling Commodore 64 video games published by Accolade.
Upon launching the game a menu screen with options to either practice or partake in a proper mission is shown. If the player decides to do the practice mode, they can choose whether to do dog fight training or a U-Boat or train bombing. When playing the practice mode, the enemies are less aggressive. There are five different view options — the cockpit, both left and right wings, the navigational map and the bomb bay — which can be accessed by using the keyboard or by double-tapping the fire button and moving the joystick to the desired direction. When in missions, the player controls a twin-engined balsa RAF Mosquito which is already airborne, mitigating the necessity of takeoff. When starting a mission, the player chooses what supplies they wish to bring, but the more the player brings the lower the maximum speed of the plane. At the end of missions, landing is not required and points are awarded according to how many enemies are shot down, along with the amount of unused fuel, bombs, and missiles. When missions are completed, the player can choose to combine two or more of the other missions to produce a mashup.
More details about this game can be found on
Wikipedia
How to play:
Click on the joystick icon in the Ace of Aces online emulator to see how to control the Ace of Aces game