Baku Baku Animal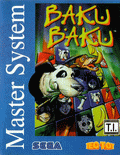 Game title:
Baku Baku Animal
Platform:
Sega Master System (SMS)
Author:
Sega
Release:
1995
Genre:
Puzzle
Mode:
Single-player
Design:
Kim Rogers, Eric Dunstan, Clint Dyer, Kenichi Iwanaga
Music:
Masahiro Itō
Played:
33,441 times
Play Baku Baku Animal online in your browser without download and enjoy with RetroMania Online Emulator! Baku Baku Animal is classic game for SegaMS has Puzzle genre for Sega Master System (SMS) retro console. If you love SegaMS Online games you can also find other emulator games on our site.
Baku Baku Animal is a falling block puzzle arcade game released by Sega in 1995. Outside Japan, the game was released as simply Baku Baku. The game is dedicated as Sega's first ever Network Compatible PC Game. A Sega NetLink compatible version of the game was also announced, but never released.
The player must line up falling blocks of animals and foodstuffs. When an animal is aligned adjacent to a tile of its favored food, the animal eats the food. Larger groups of connected food of the same type scores higher when eaten.
When animals eat foodstuffs, they also make random blocks fall on the opponent's area, right after the currently falling blocks. The object of the game is to make one's opponent unable to place more blocks.
More details about this game can be found on
Wikipedia
How to play:
Click on the joystick icon in the Baku Baku Animal online emulator to see how to control the Baku Baku Animal game