Battle Out Run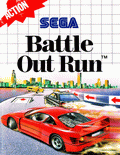 Game title:
Battle Out Run
Platform:
Sega Master System (SMS)
Author:
SEGA Enterprises
Release:
1989
Genre:
Racing
Mode:
Single-player
Design:
Tomohiro Kondo, Nishikigoi Kiyoshi, Gizagiza Hart, Gen Adachi
Music:
Izuho Takeuchi
Game manual:
Battle_OutRun_-_SMS_-_Manual.pdf
Played:
60,281 times
Play Battle Out Run online in your browser without download and enjoy with RetroMania Online Emulator! Battle Out Run is classic game for SegaMS has Racing genre for Sega Master System (SMS) retro console. If you love SegaMS Online games you can also find other emulator games on our site.
Battle Out Run was a 1989 videogame released by Sega on the Master System. Despite being part of the Out Run series, this game plays little like its namesake and more like Chase H.Q., where the objective is to ram the cars of specified criminals. A notable feature is to enhance the car's attributes by buying upgrades that are inside of a truck that passes at certain moments and must be entered from the rear.
More details about this game can be found on
Wikipedia
How to play:
Click on the joystick icon in the Battle Out Run online emulator to see how to control the Battle Out Run game