Black Belt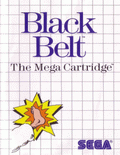 Game title:
Black Belt
Platform:
Sega Master System (SMS)
Author:
Tengen Inc.
Release:
1986
Genre:
Action, Fighting
Mode:
Single-player
Design:
Yuji Naka
Game manual:
Black_Belt_-_SMS_-_Manual.pdf
Played:
38,256 times
Play Black Belt online in your browser without download and enjoy with RetroMania Online Emulator! Black Belt is classic game for SegaMS has Action, Fighting genres for Sega Master System (SMS) retro console. If you love SegaMS Online games you can also find other emulator games on our site.
Black Belt is a 1986 beat 'em up game released for the Sega Master System. It is a localization of the Japanese Mark III game, Hokuto no Ken, based on the manga and anime series of the same name (Fist of the North Star in English). The international version was stripped of the Hokuto no Ken license, forcing graphic alterations to the game. Black Belt was one of programmer Yuji Naka's early games prior to his involvement in Sonic the Hedgehog.
The player takes control of a martial artist named Riki, who sets out to rescue his girlfriend Kyoko from his rival, Wang. The game is composed of six left-to-right side-scrolling stages in which Riki faces different types of underlings (depending on the stage), facing the occasional sub-boss at midpoints of certain stages. Keeping true to the original source material Hokuto no Ken , underlings violently explode upon being punched or kicked. At the end of each stage, Riki must confront the stage's boss, each being susceptible to only one type of attack. The player must exploit their opponent's weakness and use it to finish the boss off.
More details about this game can be found on
Wikipedia
How to play:
Click on the joystick icon in the Black Belt online emulator to see how to control the Black Belt game