Castle of Illusion starring Mickey Mouse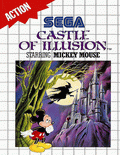 Game title:
Castle of Illusion starring Mickey Mouse
Platform:
Sega Master System (SMS)
Author:
SEGA
Release:
1990
Genre:
Action, Platform
Mode:
Single-player
Design:
Emiko Yamamoto, Yoshio Yoshida, Takashi Yuda, Mikarin Nishida
Music:
Shigenori Kamiya
Game manual:
Castle_of_Illusion_-_SMS_-_Manual.pdf
Played:
35,521 times
Play Castle of Illusion starring Mickey Mouse online in your browser without download and enjoy with RetroMania Online Emulator! Castle of Illusion starring Mickey Mouse is classic game for SegaMS has Action, Platform genres for Sega Master System (SMS) retro console. If you love SegaMS Online games you can also find other emulator games on our site.
Castle of Illusion Starring Mickey Mouse, known in Japan as I Love Mickey Mouse: Great Mysterious Castle Adventure, is a platform game developed by Sega and released for the Sega Mega Drive (Genesis) in November 1990. The game also was on a cartridge entitled 'Disney Collection' bundled with QuackShot in 1996. An 8-bit version of the game, known as I Love Mickey Mouse's Castle Illusion in Japan, was later released for the Master System and Game Gear.
The game follows Mickey Mouse on a quest to save Minnie Mouse from the evil witch Mizrabel. It was the first game in Sega's long-running Illusion series of video games starring Mickey and was also a part of the second wave of games initially released for the Sega Mega Drive/Genesis which helped seal the console's reputation within the period until the release of Sonic the Hedgehog.
Castle of Illusion is a side-scrolling platformer in which the player takes control of Mickey Mouse as he goes inside the Castle of Illusion in order to rescue Minnie Mouse from an evil witch named Mizrabel, who wants to steal Minnie's youth. During the game, Mickey visits various worlds in order to obtain seven rainbow gems that can build a rainbow bridge to the castle tower where Minnie is being held.
Mickey's main method of attack is to perform a 'bounce' whilst jumping, which can be used to defeat enemies, or to bounce upwards towards higher areas. Mickey can also collect projectiles such as apples and marbles to throw at his opponents. There are various items that earn bonus points, increase the player's health and grant extra lives.
Every level ends in a boss battle against one of Mizrabel's henchmen where Mickey can earn a gem, although there are two levels where a gem is earned half-way through. After clearing all five levels, obtaining all gems will open up the route to the witch's tower. There, the player faces the final boss: a giant and youthful version of Mizrabel (resembling Disney's Queen Grimhilde). There is also an easy mode available where players simply play through a handful of levels.
The Master System and Game Gear versions of the game feature different game mechanics, levels and graphics.
More details about this game can be found on
Wikipedia
How to play:
Click on the joystick icon in the Castle of Illusion starring Mickey Mouse online emulator to see how to control the Castle of Illusion starring Mickey Mouse game