Choplifter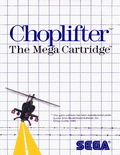 Game title:
Choplifter
Platform:
Sega Master System (SMS)
Author:
Brøderbund Software
Release:
1982
Genre:
Action, Shooter
Mode:
Multiplayer
Design:
Dan Gorlin
Game manual:
Choplifter_-_SMS.pdf
Played:
34,281 times
Play Choplifter online in your browser without download and enjoy with RetroMania Online Emulator! Choplifter is classic game for SegaMS has Action, Shooter genres for Sega Master System (SMS) retro console. If you love SegaMS Online games you can also find other emulator games on our site.
Choplifter is a 1982 Apple II game developed by Dan Gorlin and published by Brøderbund. It was ported to other home computers and, in 1985, Sega released a coin-operated arcade game remake, which in turn received several home ports of its own. While many arcade games have been ported to home computers and consumer consoles, Choplifter was one of the few games to take the reverse route: first appearing on a home system and being ported to the arcade.
In Choplifter, the player assumes the role of a combat helicopter pilot. The player attempts to save hostages being held in prisoner of war camps in territory ruled by the evil Bungeling Empire. The player must collect the hostages and transport them safely to the nearby friendly base, all the while fighting off hostile tanks and other enemy combatants. According to the backstory, the helicopter parts were smuggled into the country described as 'mail sorting equipment.' Although the Iran hostage crisis ended the year before the game was released, Gorlin has stated 'the tie-in with current events was something that never really crossed my mind until we published.'
Choplifter was ported to many other home systems of the era. These versions were ports of the original Apple II game, not the later arcade version. These systems include the Atari 5200, Atari 7800, Atari 8-bit family (and a graphically updated version for the Atari XEGS), ColecoVision, Commodore 64, Commodore VIC-20 and MSX. German publisher Ariolasoft published the European Commodore 64 version. In 1985, Sega, looking for properties marketable in the west, produced remakes of Choplifter and Pitfall II on their System 8 hardware. Sega's version added scoring elements, music, a fuel gauge, and several new environments including a naval battle, a cave, and futuristic city. This version was also notable at the time for its heavy use of parallax scrolling. In 1986, ports of the arcade version back to home versions were developed for the Nintendo Entertainment System and Sega Master System. These versions include some gameplay and scoring changes of their own, but use the environments, music, and approximate scoreplay of the arcade remake. The arcade version is listed in the Killer List of Videogames Top 100 and one of the four best games in 1985. On 17 June 2009, inXile Entertainment announced it was working on a remake of the classic game for Xbox Live Arcade, PlayStation Network, and Windows. This game is entitled Choplifter HD and was released on January 11, 2012.
More details about this game can be found on
Wikipedia
How to play:
Click on the joystick icon in the Choplifter online emulator to see how to control the Choplifter game