Hang-On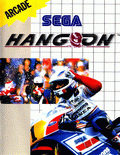 Game title:
Hang-On
Platform:
Sega Master System (SMS)
Author:
Sega
Release:
1985
Genre:
Racing
Mode:
Single-player
Design:
Yu Suzuki
Game manual:
SegaMasterHangOn.pdf
Played:
32,968 times
Play Hang-On online in your browser without download and enjoy with RetroMania Online Emulator! Hang-On is classic game for SegaMS has Racing genre for Sega Master System (SMS) retro console. If you love SegaMS Online games you can also find other emulator games on our site.
Hang-On is an arcade game released by Sega in 1985. It is the world's first full-body-experience video game. In the game, the player controls a motorcycle against time and other computer-controlled bikes. It was one of the first arcade games to use 16-bit graphics and Sega's 'Super Scaler' technology that allowed pseudo-3D sprite-scaling at high frame rates. The game was also built into some versions of the Sega Master System. The title is derived from when the biker is turning and has to 'hang on' to the bike while the bike is leaning, which Suzuki had read in a Japanese bike magazine, though Suzuki learnt later the technique was called 'hang off' in North America. Nevertheless, he chose to keep the former name.
Using a behind the motorcycle perspective, the player races a linear race track divided into several stages within a limited time. Reaching a checkpoint at the end of each stage extends the time limit. The game ends if the time runs out.
More details about this game can be found on
Wikipedia
How to play:
Click on the joystick icon in the Hang-On online emulator to see how to control the Hang-On game