Mortal Kombat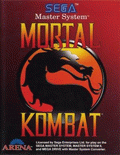 Game title:
Mortal Kombat
Platform:
Sega Master System (SMS)
Author:
Midway Games
Release:
1993
Genre:
Action, Fighting
Mode:
Multiplayer
Design:
Ed Boon, John Tobias
Music:
Matt Furniss
Game manual:
Mortal_Kombat_-_SMS_-_Manual.pdf
Played:
156,362 times
Play Mortal Kombat online in your browser without download and enjoy with RetroMania Online Emulator! Mortal Kombat is classic game for SegaMS has Action, Fighting genres for Sega Master System (SMS) retro console. If you love SegaMS Online games you can also find other emulator games on our site.
Mortal Kombat is an arcade fighting game developed and published by Midway Games in 1992 as the first title in the Mortal Kombat series. It was subsequently released by Acclaim Entertainment for nearly every home video game platform of the time. The game introduced many key aspects of the Mortal Kombat series, including the unique five-button control scheme and gory finishing moves. The game focuses on the journey of the monk Liu Kang to save Earth from the evil sorcerer Shang Tsung, ending with their confrontation in the tournament known as Mortal Kombat.
Mortal Kombat became a best-selling game and remains one of the most popular fighting games in the genre's history, spawning numerous sequels and spin-offs over the following years and decades, beginning with Mortal Kombat II in 1993, and together with the first sequel was the subject of a successful film adaptation in 1995. It also sparked much controversy for its depiction of extreme violence and gore using realistic digitized graphics, resulting in the introduction of age-specific content descriptor ratings for video games.
Mortal Kombat is a fighting game in which players battle opponents in one-on-one matches. The player that depletes the opponent's health bar first wins the round and the first player to win two rounds wins the match. Players select one of seven characters. Whereas other fighting games had characters with considerable differences in speed, height, attacks, strength, jumping heights and distances, the playable characters in Mortal Kombat are virtually identical to one another with only minimal differences in their moves' range and speed. The game also distinguished itself from other fighting games of the time with its unique control scheme. The controls consist of five buttons arranged in an 'X' pattern: four buttons for high and low punches and kicks with a block button at the center, as well as an eight-way joystick. Attacks can vary depending on the player's distance from the opponent. All player characters have a shared set of attacks performed by holding the joystick in various directions, such a leg sweep and the uppercut, which knocks enemies high into the air and causes a large amount of damage.
Mortal Kombat also featured unique ways in which special moves were performed. It was the first game to introduce special moves performed exclusively using the joystick. Most special moves were performed by tapping the joystick, sometimes ending with a button press. Unlike previous one-on-one fighting games, few moves required circular joystick movement. Co-designer Ed Boon later said, 'since the beginning, one of the things that's separated us from other fighting games is the crazy moves we've put in it, like fireballs and all the magic moves, so to speak.' Another of the game's innovations was the Fatality, a finishing move executed against a defeated opponent to kill them in a gruesome fashion.
More details about this game can be found on
Wikipedia
How to play:
Click on the joystick icon in the Mortal Kombat online emulator to see how to control the Mortal Kombat game